News > Home
Local artisans strut their stuff for HGTV
Tue., Aug. 28, 2007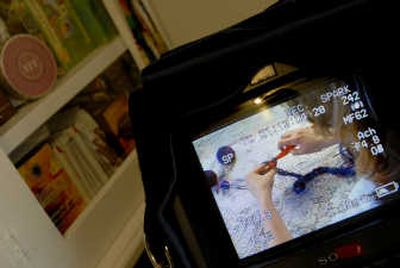 Earlier this summer a crew from Home and Garden Television was in town filming local artists for "That's Clever," a how-to, step-by-step show which airs locally Monday through Friday. The Spokane segments will air in the spring of 2008.
The artists were selected through local galleries, art groups, previous newspaper coverage and word-of-mouth referrals.
Prior to the taping, a two-page list of do's and don'ts was sent out urging the artists to do things like: wear a lot of makeup, have powder handy and consider getting a manicure prior to taping. Artists were told to have "step outs" (examples of each stage of the project) ready for inspection and make sure neighbors were not building or roofing on the day of the shoot. Other instructions included such tips as practice saying "I" before every sentence, and to be jolly and happy in front of the camera without the aid of alcohol.
The artists were also asked to have menus of area restaurants that would deliver.
While taping their individual segments the artists were asked to be perky and silly. Sondra Barrington brandished a magic wand, Karen Mobley rang the antique bell in her backyard, Sami Perry had to pretend to be cocking a gun when handling her epoxy gun, and Mary Eberle had to think about clowns to maintain her smile.
Each artist spent hours in front of the camera, but because each segment is only about 10 minutes long, much of their work will, as the saying goes, end up on the cutting-room floor. Still, they are all excited to be featured.
In addition to the lure of television exposure, HGTV's Web site reportedly gets millions of views a month.
"That bit of information cinched it," said Sondra Barrington, one of the artists profiled. "I really didn't even care about being on television. I don't even have time to watch television."
Local journalism is essential.
Give directly to The Spokesman-Review's Northwest Passages community forums series -- which helps to offset the costs of several reporter and editor positions at the newspaper -- by using the easy options below. Gifts processed in this system are not tax deductible, but are predominately used to help meet the local financial requirements needed to receive national matching-grant funds.
Subscribe to the Coronavirus newsletter
Get the day's latest Coronavirus news delivered to your inbox by subscribing to our newsletter.
---
Subscribe and log in to the Spokesman-Review to read and comment on this story