News > Spokane
Program offers lifesaving speed
Mon., Dec. 3, 2007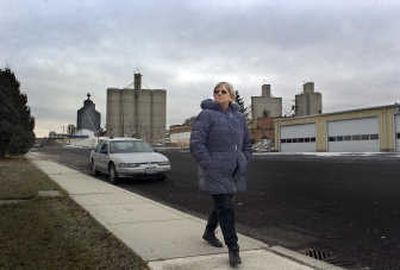 This time, Betty Marsh knew better than to mess around.
When the 63-year-old Harrington, Wash., woman had a heart attack nearly three years ago, she waited hours to seek treatment thinking her symptoms would go away. When they didn't, her ex-husband drove her 65 miles to Spokane to get help.
The delay damaged her heart and nearly killed her.
"I was fortunate I survived, I guess," she said.
So when the retired nurse's aide felt an ache between her shoulder blades last Easter Sunday, she paid attention. And when the pain got worse, she went straight to Lincoln Hospital, 14 miles down the road in Davenport.
Fortunately for Marsh, the 92-bed hospital in this rural community of 1,700 had just joined a national effort to speed specialized treatment for some 400,000 heart attack sufferers each year.
The minute she stepped up to the emergency department counter, Marsh was surrounded by health care workers. Within 10 minutes, she was given aspirin, nitroglycerin and an EKG. Within 93 minutes, she was loaded into a helicopter, flown to Spokane's Sacred Heart Medical Center and whisked to a cardiac catheterization lab, where a waiting team of surgeons opened her blocked artery and inserted a device called a stent.
For the medical teams at Lincoln Hospital and Sacred Heart, Marsh's case was the first test of the Cardiac Level 1 program, a regional collaboration to ensure that patients suffering from STEMI – ST-segment elevation myocardial infarction – get treatment quicker.
Marsh's treatment fell just outside the national goal of getting 75 percent of patients from the ER to angioplasty in 90 minutes, but for a first try it was a success.
"That's like going up to bat for the first time, if you're a professional baseball player, and you hit a grand slam," said Dr. Michael Ring, medical director of cardiovascular services at Sacred Heart. "Betty's treatment was better than what half of the patients are getting."
For Marsh, the advantage of the speedy intervention was obvious, said her former husband, Larry Marsh: "She'd have been dead if it hadn't been there."
Since Marsh's case in April, two more patients have shown up with serious symptoms that kick the new cardiac system into gear, said Tom Martin, chief executive officer of Lincoln Hospital. One was in Spokane in 60 minutes; the other arrived in 73 minutes.
He expects as many as a dozen Lincoln County patients a year to qualify for the protocol that allows rural ER doctors to activate the cath lab at either Sacred Heart or Deaconess Medical Center. Hospitals in Ritzville, Colfax and Colville are expected to join soon.
"It's not a huge number, but for each of those patients it is a huge thing because it is their life," Martin said.
Lincoln Hospital initiated the partnership more than a year ago, after competing successfully for a federal grant to improve treatment for acute myocardial infarction and inpatient pneumonia.
Abbott Northwestern Hospital in Minneapolis was gaining fame for a program that linked rural and urban hospitals in a coordinated system that dramatically slashed heart attack treatment times. So, a year ago, officials from Sacred Heart, Northwest MedStar and Lincoln Hospital headed east to observe.
Research suggests that angioplasty works better than clot-busting drugs to clear blocked arteries and the best results occur when patients get to surgery within the 90-minute window. But doctors in remote hospitals without cath labs or cardiac specialists have received conflicting advice about best treatment.
"If you're delaying on every step 10 to 15 minutes, pretty soon you're an hour out," said Dr. Ralph Monteagudo, director of Lincoln Hospital.
Under programs piloted in places like Abbott and adopted by the Inland Northwest partnership, clear protocols create an integrated system in which everyone follows the same steps with the same goal: save time.
"Time is muscle," said Dr. Pierre Leimgruber, an interventional cardiologist at Deaconess Medical Center, which also participates in the program. "The quicker you go, the more heart muscle you save."
Deaconess is among 900 hospitals nationwide enrolled in the "door-to-balloon" or D2B Initiative launched last year by the American College of Cardiology and American Heart Association. The goal of the project is to treat 75 percent of patients within the recommended window, up from 35 percent. The list includes 14 Washington hospitals and five in Idaho.
Sacred Heart has not joined the list of D2B sites. Ring isn't sure why, but he says the hospital supports the goals of the program and implements them through the new Cardiac Level 1 partnership and protocols.
Under the plan, ER doctors in the rural hospitals are authorized to activate the cardiac system in Spokane. With a single call, they start up the cath lab, call in cardiologists and send helicopters into the sky.
That allows patients to be sure that specialists will be waiting to treat them.
"They have a reservation if they come through us," said Martin, the Lincoln Hospital executive.
It's a lot of responsibility on both sides, Ring acknowledged.
"It was a leap of faith, to be honest with you," he said. "You had to trust their judgment that they were making the correct diagnosis and instituting therapies that would work."
For their part, rural staffers were concerned about meeting the deadlines and making sure they'd diagnosed the situation correctly, said Monteagudo.
"It's always better to err on the side of getting the patient there," he said. "It's better to make a trip than not."
The trips can be expensive, with helicopter costs averaging $12,000 a flight and artery-opening stent procedures racking up $14,000 each, officials said. Doctors hope, though, that treating patients earlier and more effectively will reduce costs over time.
Speeding patients to quicker cardiac care is only part of the solution, Ring said. The average heart attack victim waits two to three hours from the start of symptoms to seek help, wasting precious time – and muscle.
"If I could give a message to the public, it would be that the biggest delay isn't in how quickly they could be transported, or whether they come to Sacred Heart or Davenport," he said. "It's how quickly they get to the emergency room."
For Betty Marsh, the Easter experience bolstered her faith in the Davenport hospital. She's appeared on a video that's part of an advertising campaign aimed at reminding area residents to go first to the local ER.
"I didn't think they were capable just because they were so small," she said. "Like everyone else, we thought we'd just bypass them and go to the city."
Now, if the grandmother of 12 and great-grandmother of one has another heart attack – and she might, given the smoking habit she just can't kick – Marsh knows to go to the nearest ER.
"I'm just not going to play around," she said.
Local journalism is essential.
Give directly to The Spokesman-Review's Northwest Passages community forums series -- which helps to offset the costs of several reporter and editor positions at the newspaper -- by using the easy options below. Gifts processed in this system are not tax deductible, but are predominately used to help meet the local financial requirements needed to receive national matching-grant funds.
Subscribe to the Coronavirus newsletter
Get the day's latest Coronavirus news delivered to your inbox by subscribing to our newsletter.
---