Rally counters white supremacists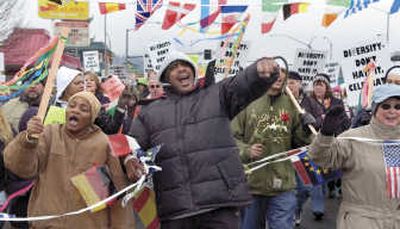 LONGVIEW, Wash. – Hundreds attended a march and cultural diversity picnic in this Columbia River town to offset a much smaller rally staged by white supremacist recruiters.
Despite temperatures in the mid-30s, an estimated 400 to 500 people with a broad mix of races and ages chanted slogans and sang peace songs in the mile-long march Sunday to Victoria Freeman Park, one of the biggest local demonstrations in recent memory.
The march and picnic at the park were organized by politicians, churches and activists in response to the recruiting meeting Sunday night by the Church of Jesus Christ-Christian, an affiliate of the white supremacist group Aryan Nations.
"To me, diversity is the acceptance of many different points of view," said Mike Cheney, of Longview. "I don't support Aryan Nations. I do support their right to express what they feel.
"I'm here because I support the opposite view, and I'm expressing my right."
Signs and placards included "Diversity: Don't hate it, celebrate it," "God Loves All Colors" and "No Child is a Mongrel," a reference to the Aryan Nations term for those of mixed racial ancestry.
Diversity means "a melting pot," said Kheng Lee, of Longview, who was accompanied by his wife, Kea Lee. "All multiple nationalities are together. That's what diversity is for – not diversity in split, diversity in unity."
Elaine Helvie, who is white, said Longview's prevailing attitude was far different in 1945, when her family moved to town and was shocked to find that when her father, Elmer Schaefer, bought a piece of property, the deed included a condition that no black people could live on that street.
Such covenants are illegal today.
"This is a long time coming," Cynthia Washington, of Longview, granddaughter of the local black civil rights pioneer for whom the park is named, exhorted the crowd through a bullhorn. "This cannot stop today."
"The question of 'Now what?' needs to be addressed," agreed Mark Bergeson, of Longview, a diversity rally organizer. "We need to think of what do we do on a regular, ongoing basis. We need to keep diversity in the front of our minds, as a community."
Opposing views were evident in a small knot of young people, many with shaved heads, who stood across the street from the park.
"If it ain't white, it ain't right," said Jesse Lester, 15.
"They're stupid," said Kelsey Sudar, 16.
On Sunday night, Police Chief Alex Perez and many of his officers kept a watchful eye as neo-Nazis and diversity supporters mingled peacefully at a three-hour white supremacist rally that drew about 30 skinheads and others affiliated with Aryan Nations. The event included reading poetry based on Viking mythology, punk music and a video about the "myth of 9/11."
"You guys are wasting your time," a man with a shaved head who did not give his name told the police. "I thought it would be more spectacular, but this is Longview."
---