News > Spokane
Reactor's shutdown limits medical testing
Tue., Dec. 11, 2007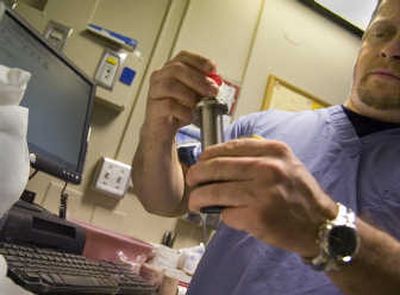 Hospitals and clinics in the Inland Northwest and across Washington are limiting nuclear medicine tests to only the most serious cases as a reactor in Canada remains idle, threatening supplies.
At Deaconess Medical Center, Kootenai Medical Center and Spokane Cardiology, only emergency and critical cases will receive tests that require technetium-99, a radioactive substance used for diagnosis and evaluation of ailments.
The substance is used in at least 15 million medical scans a year in the United States, by one estimate.
The shortage is caused by the unexpectedly long shutdown of a nuclear reactor in Chalk River, Ontario. The 50-year-old reactor is North America's biggest source of the radioactive isotope that makes technetium.
The owner of the reactor, Atomic Energy of Canada Ltd., shut it down Nov. 18 for what was supposed to be five days of routine maintenance. However, the company decided to keep it closed to do more work. The reactor will probably be working again by the end of December and almost surely by the end of January, the company says.
At Deaconess, technetium-99 is mostly used in cardiac cases, said Ron Olds, vice president of clinical services, where doctors normally order 10 to 20 nuclear medicine tests each week.
At Harborview Medical Center in Seattle, one of the state's busiest trauma units, doctors have had to eliminate or ration brain scans, even for critically ill or injured patients, said Dr. David Lewis, director of the hospital's nuclear medicine program.
Although there are backups for the 10 to 15 tests usually conducted each day, Lewis said the shortage of commonly used nuclear medicine exams could harm patients.
"I do have some concern," he said. "It could represent some degree of danger."
At the University of Washington's nuclear medicine department, staff members who conduct 30 to 40 tests a day have rescheduled "a handful" of noncritical cases to accommodate the shortage, said Michele Wanner, a supervisor.
"The longer it goes, the harder it will be," she said, adding: "We've tried to prioritize patients as best we can."
At Spokane's Sacred Heart Medical Center, tests are continuing as usual because the hospital gets its material from a supplier that doesn't depend primarily on the Chalk River reactor.
"Our impact? None so far – and we won't have any," said Craig Gracyalny, radiation safety officer at Sacred Heart.
In the United States, two primary suppliers provide molybdenum-99, a radioactive substance packed into canisters called generators and tapped for technetium-99, which is used in 60 percent to 80 percent of all nuclear medicine tests, UW's Wanner said.
Technetium-99 has a shelf life of about six hours, which means it must be continually replenished and can't be shipped great distances.
One of the suppliers, Bristol-Myers-Squibb, receives most of its molybdenum from the Canada reactor. The other, Corvidien, operating as Mallinckrodt, also receives supplies from reactors in Europe and South Africa. Sacred Heart contracts with Corvidien to provide the generators its uses to supply about 20 patient testing doses each day.
The prospect of a shortage like this one, which is expected to continue through January, has worried the U.S. nuclear medicine industry for years, Lewis noted.
"It would be worthwhile to raise the awareness of the nation that the U.S. needs to think about having a supply of their own medical isotopes," he said. "We've not had the foresight to do that."
Local journalism is essential.
Give directly to The Spokesman-Review's Northwest Passages community forums series -- which helps to offset the costs of several reporter and editor positions at the newspaper -- by using the easy options below. Gifts processed in this system are not tax deductible, but are predominately used to help meet the local financial requirements needed to receive national matching-grant funds.
Subscribe to the Coronavirus newsletter
Get the day's latest Coronavirus news delivered to your inbox by subscribing to our newsletter.
---