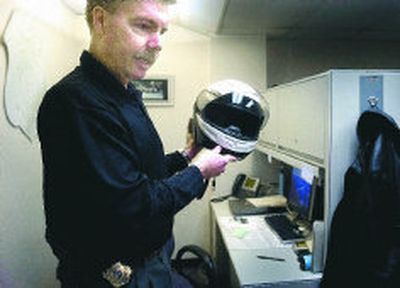 A police sergeant critically injured in a crash last fall joked Wednesday that his experience will give him more credibility when he's training motorcycle officers about what can happen in a collision.
"There's nothing like first-hand experience," said Spokane police Sgt. Rick Dobrow with a grin.
The 12-year veteran traffic officer was pursuing a driver on Sept. 26 when he collided with a van that pulled in front of him at an intersection. He suffered severe facial injuries and numerous broken bones.
Dobrow returned to work late last month as a traffic unit supervisor after multiple surgeries and four months of recovery. He received a Purple Heart from Chief Anne Kirkpatrick on Wednesday for being injured while on duty.
"I'm just so proud of him," Kirkpatrick said. "We are lucky he's here."
Dobrow was wearing a three-quarter helmet when he crashed, which didn't cover his jaw and most of his face. His new helmet covers his head down to his neck. He said from now on, a full helmet is the only type he'll wear, and as a motorcycle officer trainer, he'll be recommending others do the same.
A full helmet would have made a huge difference in his injuries, he said. Doctors had to use 27 small titanium plates to reconstruct his face.
The traffic sergeant can't close his left eye and has some paralysis on the left side of his face.
Dobrow said he'll no longer be doing motorcycle patrols.
As a supervisor, Dobrow said he spent a disproportionate amount of time at his desk, so his job won't change too much.
Coworkers say, regardless of whether Dobrow is at the station or on the streets, they are glad he's back.
"He's dedicated to the profession," said Lt. Bill Drollinger, commander of the police traffic unit. "He has been an inspiration to his troops. He was in a terrible crash, and he's back to work."
Dobrow was headed home on his police motorcycle after a day of training at the academy and was stopped at a red light at Monroe and Francis when he saw a BMW sport utility vehicle speed through a turn and nearly crash. He pursued the SUV, which sped up.
A van at Dalke Avenue pulled in front of Dobrow, and he slammed into it. He didn't have enough time to avoid colliding, so he tried to slow down as much as possible, he said.
"I was able to reduce my speed to 33 mph, which probably saved my life," Dobrow said.
Marks on the pavement indicated Dobrow's motorcycle skidded for almost 20 feet. Drollinger said most people trying to stop on a motorcycle would fall down after about three or four feet.
"He was in excellent condition before the crash," Drollinger said. "He saved his own life with his motorcycle skills."
Dobrow was hospitalized for nearly two weeks, including 10 days in intensive care. He had open fractures to his jaw, a broken nose, one cheekbone was broken and the other was shattered, said Officer Jennifer DeRuwe. He also suffered a broken shoulder blade, broken sternum, two broken ribs, three fractured vertebrae and a punctured lung.
The van's driver, Crystal Kilbride, received two traffic tickets, one for second-degree reckless driving and another for driving without insurance, authorities said. Kilbride has retained a lawyer. When reached by phone, Kilbride's husband said they had no comment.
Kilbride, a Spokane resident, has never contacted Dobrow, he said. "An apology would have been a nice gesture."
As for the SUV driver, whose speeding started the pursuit, the vehicle was brand new with temporary paper plates. That driver got away.
---