Sports
Bradley breaks through for second place
Sun., Jan. 28, 2007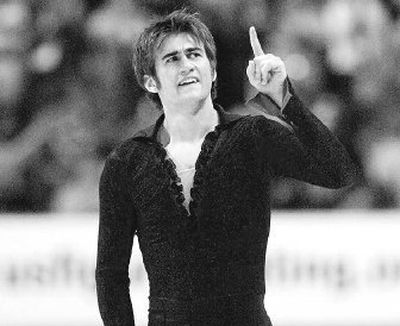 The duel was over, the king was dethroned, the U.S. Figure Skating Championships were over.
Someone forgot to tell Ryan Bradley – and Saturday night's Spokane Arena crowd of 9,170, for that matter.
Bradley turned in the performance of a lifetime, jumping past three-time defending champion Johnny Weir to finish second to the brilliant Evan Lysacek
"To be honest, I would have been freaking out up here if I had gotten fourth skating as well as I did today," Bradley said in the interview area. "That was just the breakthrough I needed so badly. I feel so good standing here. There were three (media) people after the short program. There are like 20 now."
With a near-flawless performance, Bradley scored 145.63 points in the long program, second only to Lysacek's astounding 169.89.
Fortunately, Bradley had the program to not disappear after the Weir-Lysacek showdown.
Lysacek, skating fourth among the final six, brought the house down.
The flamboyant Weir failed to meet the challenge and it seemed as if the crowd had spent its energy.
"That didn't affect me near as much as when Jeremey Abbot (skating midway through the second group) went out and skated and just brought the house down," Bradley said. "I train with him every day. At that moment, I knew if I didn't skate my butt off I wasn't going to do it.
"That freaked me out for a little while. Then I stopped thinking about that completely. I thought, 'You know what? I'm ready to skate my best.' "
Skating last was another dicey proposition for Bradley.
"When I got to draw between the last three spots and I didn't get to skate 1, 2 or 3, I was kind of freaked," he said. "I like to skate second or third (to get going). … My coach did a great job of getting me ready to skate with the wait that long, wait through those great skaters.
"When I won Juniors many years ago I skated last. That was probably the last time I had to wait 45 minutes. I knew if I could do it then, I could do it today."
From the get-go, Bradley played to the crowd and hit his first jumps, pumping life back into the Arena. It seemed one just fed off the other as the unthinkable, beating the king, was possible.
After hugs with his coaches, his score was announced. The 219.21 total allowed Bradley to make up a 4 1/2-point deficit on Weir from the short program to beat him by almost six points – admittedly almost 30 points behind Lysacek. Then, after a live television interview, Bradley skated back onto the ice, waved to the adoring crowd and did a back-flip – maybe the happiest runner-up.
Asked if the cliché, 'saving the best for last,' was true, Bradley said, "I wasn't the best. Evan Lysacek is such a brilliant skater. I saved my best for last."
This is the first Senior medal at nationals for Bradley since winning the Novice division in 1999.
After a 10th-place finish at nationals in Dallas in 2003, Bradley, 23, all but retired.
He quit skating for sixth months, finished high school and started college at the University of Colorado-Colorado Springs, where he is now a junior in business.
"My goal at that point was to take the stress off skating," he said. "I wasn't a figure skater. I was a good kid that skates, as well. I'm so thankful I did that."
For one night it left him jumping for joy.
Local journalism is essential.
Give directly to The Spokesman-Review's Northwest Passages community forums series -- which helps to offset the costs of several reporter and editor positions at the newspaper -- by using the easy options below. Gifts processed in this system are not tax deductible, but are predominately used to help meet the local financial requirements needed to receive national matching-grant funds.
Subscribe to the sports newsletter
Get the day's top sports headlines and breaking news delivered to your inbox by subscribing here.
---
Subscribe and log in to the Spokesman-Review to read and comment on this story