News > Spokane
Mutual change
Mon., July 2, 2007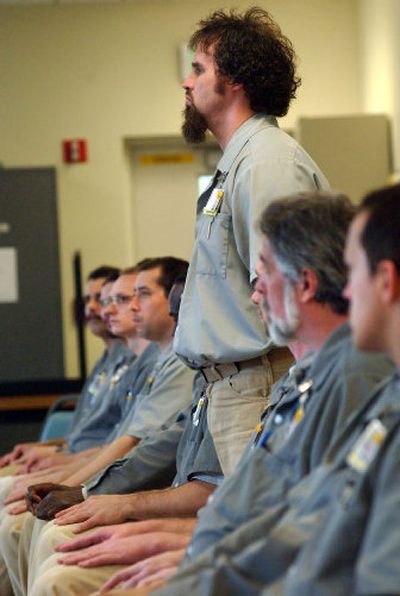 ABERDEEN, Wash. – There's no doubt that this complex of low-slung buildings amid acres of scrub brush is a prison. Razor wire blankets the fence line. Bright lights cluster overhead. And a sign inside the waiting room warns visitors to "refrain from assisting in any situation" involving blood.
So it's not the sort of place one would expect to hear inmates calling each other "mister," or referring to prison officials as "Rational Authority." And it's definitely not the sort of place you'd expect to see men – some of them on their fifth prison sentence – starting their mornings with a group rendition of "I'm a Little Teapot."
Welcome to the Odyssey program, a 109-man "therapeutic community" within the larger confines of the state's 1,936-bed Stafford Creek prison. After years of experimenting with the intensive regimen of counseling and "right living" as a way to reduce recidivism, state corrections officials are about to launch their most ambitious such program yet.
In a first for Washington, they're about to convert the entire Airway Heights prison west of Spokane into one big therapeutic community.
"I'm not a Pollyanna; this is not a wand that comes down on people," said Kay Heinrich, the Department of Corrections official who's heading up the conversion of Airway Heights. "But some of these guys have never had a real job, never had a real life. This puts them back on that track."
"We're all trying to find the best way to live life," said Wayne Knapp, a 31-year-old Olympia man who's spent the last 12 years of his life in prison. "I know this ain't it."
Being brother's keeper
The term "therapeutic communities" evolved from residential treatment for shell-shocked World War I and World War II veterans, although Heinrich says the basic tenets date back millennia. The first known prison program started in 1964 in Nevada; Washington opened its first – now one of 9 in the state – in 1996 at Pine Lodge Pre-Release near Spokane.
There are 557 inmates in such programs now, according to the Washington state Department of Corrections. The conversion of Airway Heights – home to 2,129 inmates – will quintuple that. The conversion is expected to start in December and be complete within 10 months. Cost: $501,000 for staff training.
The programs try to coalesce troubled individuals into a mutually supportive "family" that tries to change problem behavior. They stress "right living" and accountability.
"It's all based on respect and being your brother's keeper," said Heinrich. "If you do something wrong, it's reflective of the community, and you're held accountable."
At Stafford Creek, that means a daily regimen of work, group meetings, homework and study. Group members called themselves "the Family." They walk in lines, wear different uniforms from the rest of the prison population, and are not allowed to swear.
"Even how you dress, how you walk – it's structured," said Heinrich.
There's a complex system of leadership and jobs, ranging from "big brothers" who guide newcomers, to higher-ranking inmate leaders who deal with "Rational Authority" – i.e. prison officials – to work out problems. The top jobs are paid 30 cents to 42 cents an hour, according to Jennifer Machovsky, a counselor who works with the program.
At Stafford Creek, community members are isolated from the general prison population. They eat and live separately, and are banned from talking to the rest of the prisoners.
"We don't want to have them learn what we're trying to have them un-learn," said Machovsky.
Short-term gains
Numerous research projects suggest that such programs do help steer at least some offenders away from crime once they're released. In Idaho, which has therapeutic community units in prisons, the Department of Correction last year said that inmates who successfully completed the program were 22 percent less likely to re-offend than those who washed out. Other states – which typically couple the programs with housing and job help upon release – report similar results:
"In California, just 27 percent of the inmates were back in prison after three years, compared with 75 percent of those who didn't go through such a program.
"A similar study in Delaware had a re-offense rate of 31 percent versus 71 percent in the comparison group.
"In Texas, it was 26 percent versus 52 percent.
A Washington study was less promising. Last year, the Washington State Institute for Public Policy found that such programs coupled with community "aftercare" reduced recidivism less than 7 percent.
"In general, studies of in-prison therapeutic community programs in other states have found that they reduce recidivism rates for treatment groups in the short term (12 to 24 months) but that the difference … begins to disappear over longer periods of 36 months," said a report in February by California Inspector General Matthew Cate.
Not 'hug-a-thug'
In most programs, the therapeutic communities target offenders with serious drug or alcohol problems. At Airway Heights, officials plan to have everyone in the program.
"It's a huge environmental and cultural shift," said Heinrich.
The programs require more counselors, but therapeutic community offenders are easier to manage, she said. There's far less profanity, disrespect or threats to staff, she said.
"Correctional officers at first say this is like a hug-a-thug program," she said. "Absolutely not. They (offenders) are held to a higher level of expectations."
It remains to be seen how prisoners who aren't volunteers or ordered by a court into a therapeutic community will behave when incorporated into a program that requires them to write an anti-profanity paper if they repeatedly swear.
"I'm sure we'll have those that will resist, but we're trying to make it where there are incentives to this," Heinrich said. "And I don't know where they would go, because this is how the prison will be run."
At other prisons, "the Family" is often viewed with disdain by regular inmates. Some of the routines, like a morning "energizer" song or dance, are mocked. And the program's emphasis on community members calling attention to others' behavior is viewed as snitching.
That division was obvious on a recent weekday, when Stafford Creek had about 20 members of its program explain it to regular inmates, who got ice cream bars to show up.
The regular inmates slouched and fidgeted. The program members sat upright, hands resting on their knees.
"We look at it as you guys singing songs and everything. … Some of us find it kind of funny," said one inmate.
Humility and hope
Those in the program defend it.
"It's inside a prison but not of a prison," said Chris Jones, 27, a Seattle man serving three years for car theft and attempting to elude police. "It's kind of renewed my faith in myself."
Knapp, serving time for possession of cocaine and a firearm, escaping and other crimes, said it's given him hope of returning to his wife and kids as a better man. In the general prison population, inmates abide by the prison code of honor, racial divides and learn ways to manufacture drugs. In the Odyssey program, he said, they're a family.
And what's with the songs? Every morning, the group picks an activity out of a bag and does it. They do the Hokey Pokey. They sing "Itsy Bitsy Spider," or the teapot song.
"At first, you're like 'Are you serious?' " Knapp said. But the routine teaches humility, he said.
It also breaks down a person's tough prison façade and allows people to laugh at themselves, said Larry Daniels, 52.
A grandfather who's been in prison five times, Daniels is serving time on methamphetamine and weapons charges. When he joined the program, he said, "I thought I could give them what they wanted and fake it."
But the program has made him reconsider his life and rekindled his desire to be a grandfather to his grandson, he said, and a father to his adult daughter. One more serious run-in with the law, he said, and he could be sitting in a prison cell at an age when most people are drawing Social Security.
"At some point in time, people have to draw the line," he said. "I've drawn mine."
Local journalism is essential.
Give directly to The Spokesman-Review's Northwest Passages community forums series -- which helps to offset the costs of several reporter and editor positions at the newspaper -- by using the easy options below. Gifts processed in this system are not tax deductible, but are predominately used to help meet the local financial requirements needed to receive national matching-grant funds.
Subscribe now to get breaking news alerts in your email inbox
Get breaking news delivered to your inbox as it happens.
---