News > Travel
Chilling experience
Sun., July 8, 2007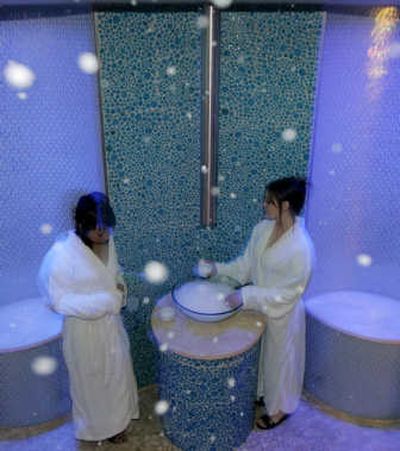 LAS VEGAS – Some people come to Las Vegas to enjoy the clear skies and warm days. But at a new spa at Caesars Palace, there is a treatment room where it snows all year long.
Welcome to Qua's Arctic Ice Room, where "snow" gently descends from a domed ceiling through mint-infused air chilled to 55 degrees. Ice is available in the room for those fresh from the sauna who want to rub it on steaming skin.
The Romans enjoyed cooling down after a hot soak, and spa operators say such rapid cooling of the body has proven health benefits.
Or it may just give you the goosebumps.
"Even coming from somewhere that had a horrible winter, it was still very enjoyable," said Angela Wagner, a 35-year-old physician from northern Indiana.
"I had been in the heat wrap and the sauna and the whirlpools," she said. "So after being in the warmer treatments, it just felt really good."
The blue pebble and mosaic tile-encrusted cold room at Qua Baths and Spa is just the latest feature in a booming Las Vegas spa industry.
While casinos don't offer up their results, nationwide, spa revenue has been growing by about 18 percent a year since 2003 and was worth nearly $10 billion two years ago, according to the latest numbers from the International Spa Association.
When it opened in November, Qua doubled the size of Caesars' previous spa to 50,000 square feet. Other spas, such as Spa Bellagio at The Bellagio hotel-casino and Canyon Ranch SpaClub at The Venetian, have expanded or plan to, as well.
In all, Las Vegas has more than 30 spas, which offer everything from "watsu" floating massages, banana leaf wraps and crystal body art to Indian head rubs, hot rock treatments and Thai yoga therapy.
The Ritz-Carlton Spa at Lake Las Vegas just outside of town even offers an array of treatments for men that include beer samples while receiving a pedicure.
Every major resort on the Strip has a spa facility, each touting a special feature or unique therapy – often from Asia or Europe – for relief from the excitement of gambling, relaxation after a big business trip or to prepare for a night on the town.
"People want to be adventurous," says Sandy Zanella, spokeswoman for MGM Mirage Inc., whose Spa Bellagio offers the only "watsu" treatment on the Strip. "They want something new and different and do something they can't get at home."
Qua's ice room, the only one of its kind in the United States, comes from the millennia-old European bathing tradition of using snow to cleanse the body, says Don Genders, a partner of Eurospa Technologies LLC, the room's creator.
"They built these wooden cabins, heated them up with logs and rocks and would sit in them to sweat to actually cleanse their skin," Genders said.
"The whole idea was that you'd get too hot sitting in the little cabin and you'd use the snow on the ground to wipe your body. That process of wiping the dirty sweat off your body with snow gets you cold again. So you go back in."
Cold rooms in Europe dip well below freezing, touting benefits to the immune and circulatory systems.
The Grand Hotel Bellevue and Spa's Ice Grotto in Gstaad, Switzerland, is a frigid 10 degrees. The Schwaben Quellen spa and waterpark in Stuttgart, Germany, keeps a snow room at 2 degrees.
Dr. Reinhard Fricke, a retired professor at the University of Muenster in Germany, says his studies show that people who suffer from rheumatoid arthritis got temporary relief when they were put in chambers as cold as minus 166 degrees for about three minutes because the cold temperature stunted the activity of tissue-destroying enzymes and cells.
All one can hope for in a room at 55 degrees is a physical wake-up call as blood from the skin rushes back to the inner organs and the brain, Fricke says.
"It is not a treatment of a disease, but a treatment of a sleepy body," he says. "It's just trying to activate, stimulate some people."
It's not so much the temperature that revives the body, but the contrast of going from hot to cold, says Qua director Jennifer Lynn.
After baking in the 200-degree dry sauna, and cooking in a 112-degree steam room, the 55-degree ice room will feel plenty cold, she says.
"So 55 degrees may not sound as cold as 32 degrees sounds. However that contrast is what provides that physical relaxing benefit," says Lynn.
It also allows overheated patrons a chance to dip back in, she says: "Frequently I have guests that'll tell me, 'I went through that full circuit three times!' "
And the snow? Like so much of Las Vegas, it's fake.
It's made from 98 percent water and 2 percent chemical solution that is harmless. The concoction, similar to that used in movie sets, isn't at all cold. It dissolves within a couple minutes after being churned out by a machine manufactured by an Anderson, Ala.-based company called SnowMasters.
Like other fads in Las Vegas, success stories are often repeated.
Genders says his company already is building two more ice rooms, which will operate at about 45 degrees, and two snow rooms – this time with real snow – which will be run at 32 degrees, at another, as yet unannounced, location on the Strip.
Chris McQuade, a 24-year-old researcher from Clearwater, Fla., said the not-so-cold cold room at Qua was "refreshing, but it wasn't invigorating."
He also partook of an herbal steam, drank green tea, read newspapers and watched ESPN.
"The (fake) snow was kitschy," he said. "But overall, it was a lot of fun."
Local journalism is essential.
Give directly to The Spokesman-Review's Northwest Passages community forums series -- which helps to offset the costs of several reporter and editor positions at the newspaper -- by using the easy options below. Gifts processed in this system are not tax deductible, but are predominately used to help meet the local financial requirements needed to receive national matching-grant funds.
Subscribe now to get breaking news alerts in your email inbox
Get breaking news delivered to your inbox as it happens.
---