News > Spokane
Rules could sideline cabs after 350,000 miles
Mon., July 9, 2007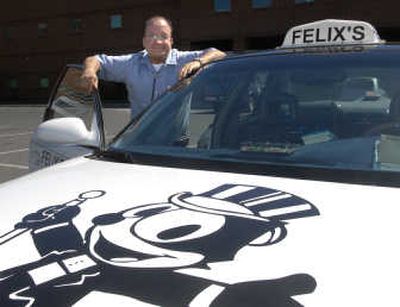 Felix Gaudreau's 1998 Buick has more than half a million miles on it.
But with good maintenance and a meticulously cared-for leather interior, his taxi cab (with a giant Felix the Cat painted on the hood) is as good as new, he said.
That's why he believes Spokane's proposed new taxi regulations, which would require cabs to have fewer than 350,000 miles, are unnecessary.
"I don't have the money to buy a new car," Gaudreau said. "It's going to put me out of business."
The Spokane City Council will consider the new rules tonight. They would amend regulations scheduled to become effective last month. Those would have outlawed cabs that are 10 years or older. The rule was put on hold so City Council could consider the proposed changes, which are a compromise meant to provide flexibility, said Councilman Bob Apple.
Besides the mileage requirement, the proposal also would prohibit a car from being used as a cab longer than three years.
Bob Beare, a taxi driver affiliated with Spokane Cab, said the 10-year regulations would have forced half the city's cab fleet off streets. He said he supports the changes because it's time to get a new taxi after 350,000 miles or three years anyway. He added that it makes little sense to outlaw the conversion of an older car with low mileage into a cab. The condition of a car is better represented by mileage than by model year, he said.
"It's not that we're trying to get by cheap. We're trying to get by efficiently," Beare said. "I drive a 1994 Buick LeSabre with a quarter of a million miles on it and if I had to drive to New York tomorrow, I would trust it."
Gaudreau, 63, argues that if a taxi cab isn't in good shape after three years on the road, then the owner isn't taking care of it. Among major repairs on his car, Gaudreau has replaced two engines, two transmissions and a gas tank.
"As long as it looks nice and is physically in good shape, mechanically in good shape, I don't see what the problem is," he said.
There's more to the proposed ordinance changes than the condition of the cars.
For instance, tank tops would be added to the list of barred driver clothing and the rules would require operators to display their taxi license on the passenger side of the dashboard.
It also would create a new complaint system. Drivers or dispatch companies would be required to resolve customer complaints within 10 days. Those that aren't resolved would have to be reported to the Spokane Police Department, which could consider them when the driver's cab license is up for renewal.
Beare said he supports the new complaint system. "If you're doing your job, you should have no complaints," he said.
Local journalism is essential.
Give directly to The Spokesman-Review's Northwest Passages community forums series -- which helps to offset the costs of several reporter and editor positions at the newspaper -- by using the easy options below. Gifts processed in this system are not tax deductible, but are predominately used to help meet the local financial requirements needed to receive national matching-grant funds.
Subscribe now to get breaking news alerts in your email inbox
Get breaking news delivered to your inbox as it happens.
---