News > Nation/World
South Dakota wildfire turns fatal
Mon., July 9, 2007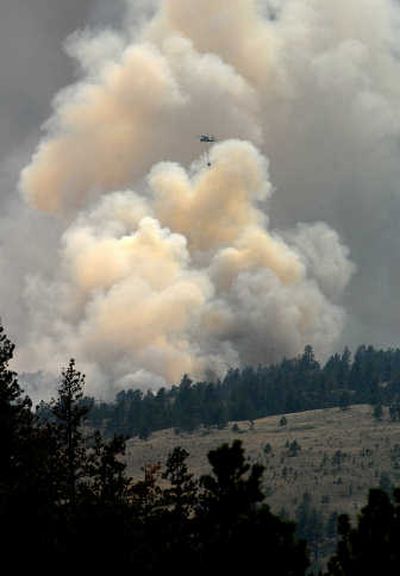 HOT SPRINGS, S.D. – One of dozens of fires across the West raced out of a canyon in South Dakota's Black Hills "with a vengeance" on Sunday, killing a homeowner and destroying 27 homes, authorities said.
Residents of about 50 homes had fled the wildfire near Hot Springs, which also injured two firefighters and closed a section of a state highway, officials said. An area of roughly 9 square miles has burned since the fire was sparked Saturday by lightning.
One person was killed trying to retrieve possessions from a home. The person's identity was withheld until relatives could be notified, authorities said.
"This thing blew up because of extreme hot temperatures and the winds," said Joe Lowe, state wildland fire coordinator. "It came out of the canyon with a vengeance."
Gov. Mike Rounds toured the area Sunday and noted that the trees around some houses were charred but the dwellings were intact.
"I don't know how in the world you saved some of those homes," he told firefighters at an evening briefing.
More than two dozen homes had no damage because of a high-tech gel made of water-filled bubbles.
In fire-swept Nevada, about 1,500 evacuees from Winnemucca were allowed home hours after a wildfire destroyed an electrical substation and several outbuildings, shut down Interstate 80, delayed trains and killed livestock. No injuries were reported.
It was unknown how much of the fire was contained Sunday, and no estimate was provided on when full containment would be reached, said Jamie Thompson, a spokesman for the U.S. Bureau of Land Management.
A fire in Arizona burned at the base of a mountain that is home to several expensive telescopes. A spokesman at Kitt Peak told KSAZ-TV that he was concerned but not alarmed.
In Utah, the largest wildfire in state history grew to 283,000 acres on Sunday. The blaze has swept through about 442 square miles of extremely dry sagebrush, cheat grass and pinion juniper in central Utah.
The fire burned along the edge and in the median of Interstate 15 Sunday, forcing a 60-mile closure of the highway between Interstate 70 near Cove Fort and Beaver for nearly five hours, Utah Highway Patrol Lt. Steve Winward said. I-15 reopened Sunday evening but could be closed again if the wind shifts, he said.
Quick-moving flames burned through more than 53 square miles in California's Inyo National Forest, skirting the popular John Muir Wilderness north of Mount Whitney, the tallest peak in the lower 48 states. At least one home was destroyed.
Local journalism is essential.
Give directly to The Spokesman-Review's Northwest Passages community forums series -- which helps to offset the costs of several reporter and editor positions at the newspaper -- by using the easy options below. Gifts processed in this system are not tax deductible, but are predominately used to help meet the local financial requirements needed to receive national matching-grant funds.
Subscribe now to get breaking news alerts in your email inbox
Get breaking news delivered to your inbox as it happens.
---