News > Business
Looking to the digital future
Wed., July 11, 2007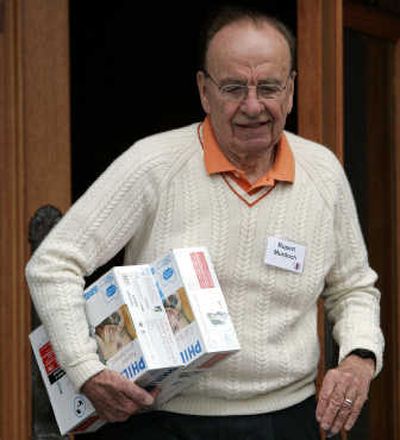 The sun always seems to shine in Sun Valley, a pristine mountain resort in Idaho, when the top brass from media and technology companies convene every July for a deep-think retreat hosted by the investment banker Herbert Allen.
But it's the darkest of thoughts that are racing through the minds of the media power elite as they go between high-level meetings, golf and family activities: How can they survive the rapid-fire technological changes that are transforming their industries and changing the way people get news and entertainment?
Conveniently, many of the power players who control major Internet and technology companies will also be on hand at Sun Valley to discuss strategies for the future of distributing video, music, text and other content through the Internet, Web-enabled cell phones and other digital means.
"Bucolic it may be, but this is a chess board," said Heather Goodchild, chief media analyst for the Standard & Poor's credit rating service. "You've got major, major players there thinking through some big strategic questions."
This year's five-day conference, whose proceedings are private, formally kicks off on Wednesday. The attendees are among the most powerful figures in media: News Corp. Chairman Rupert Murdoch, who is in advanced talks to buy Dow Jones & Co.; Time Warner Inc. CEO Dick Parsons; Walt Disney Co. CEO Robert Iger, and CBS Corp. CEO Leslie Moonves, among many others.
The founders of Internet search leader Google Inc., Larry Page and Sergey Brin, will also attend, as will Craig Barrett, chairman of chip maker Intel Corp.
The two top players from Yahoo Inc. will be there – Chairman Terry Semel, who was ousted as CEO less than a month ago amid shareholder frustration, as well as Jerry Yang, a co-founder of Yahoo who took his place.
Yahoo, a leader of the Internet world, has big problems of its own, lagging behind Google in lucrative search advertising. Talk was going around earlier this year that the company was discussing a combination with Microsoft Corp. And yes, Microsoft Chairman Bill Gates, a regular attendee, will also be in Sun Valley, as will his bridge buddy, billionaire investor Warren Buffett.
Besides the many pillars of the media and technology establishment, some of the really intriguing guests are coming from newer companies that are just beginning to make names for themselves but could show media dinosaurs and technology giants some new tricks – or takeover targets.
Janus Friis used to be reviled by record labels for helping to create Kazaa, a music file-swapping service, but he's back on the good side of Big Media with a new venture called Joost, which delivers video over the Internet onto PCs – legally.
Also in attendance will be Owen Van Natta, the chief operating officer of Facebook, one of the hottest Internet properties around. Facebook is a leader in the big trend of social networking, which allows people to post profiles, share content and interact with friends over the Internet.
Media companies are intrigued by Facebook and companies like it because it represents an efficient, fast and potentially low-cost way of accumulating audiences and attracting ad dollars online – just as offline media outlets like newspapers, radio and TV struggle to keep hold of the audiences they still have.
Another guest who is attracting attention, some of it leery, from the media establishment is technology entrepreneur Blake Krikorian, the co-founder and CEO of Sling Media, which makes an intriguing device called a Sling Box that allows users to watch their home cable feed from any Internet connection and even over certain cell phones.
Local journalism is essential.
Give directly to The Spokesman-Review's Northwest Passages community forums series -- which helps to offset the costs of several reporter and editor positions at the newspaper -- by using the easy options below. Gifts processed in this system are not tax deductible, but are predominately used to help meet the local financial requirements needed to receive national matching-grant funds.
Subscribe now to get breaking news alerts in your email inbox
Get breaking news delivered to your inbox as it happens.
---