News > Spokane
Son admits cheating mom
Wed., July 11, 2007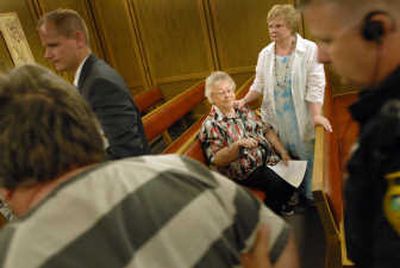 The frail 80-year-old mother didn't hear her son ask for forgiveness Tuesday as he pleaded guilty to stealing her home, pilfering thousands from her bank accounts and writing up eviction papers intended to oust her.
She didn't need to.
"I forgave him a long time ago," said Betty Halligan, who has lost most of her sight and hearing. "I don't like to see him go to jail. But he's got to be stopped."
Michael J. Halligan, 44, and his longtime partner, Daphne L. Wood, 51, were sentenced to serve 29 months in prison after both pleaded guilty to two counts of second-degree theft and 12 counts of forgery in what a veteran prosecutor described as one of the worst family-stealing-from-family cases he's seen.
However, since they have been in jail for more than six months and the state automatically cuts prison terms in half for nonviolent offenses, attorneys said in court Tuesday that Halligan and Wood likely would serve only about seven months in prison.
As they left the courtroom, Michael Halligan averted his eyes from his older brother, Richard, who stood with their mother. Richard Halligan, who has 38 years experience in law enforcement in Washington and Idaho, was not in a forgiving mood.
"He's been stealing from my folks for years," Richard Halligan said of Michael. "It finally got to a point where he got too greedy."
The case began about three years ago when Betty Halligan's husband, Jim Halligan, died from brain cancer. Soon after, Michael Halligan and Wood – who were never married, although she sometimes used Halligan for her last name – moved into the home on East Rockwell Avenue in Spokane.
According to police reports, Michael Halligan began to insist that his mother put her house in his name, which she refused.
"He finally told her that if she would sign some paperwork which would eventually put the house into his name, she could keep the deed of the house in her safety deposit box," Spokane police Detective Kirk Kimberly wrote in his report. "When the deed finally came, defendant Mike Halligan refused to give it to her and also told her at that time that it didn't matter because the house was in his name now."
Betty Halligan was then contacted by officials at her bank informing her that her savings had been greatly diminished and money was missing from her checking account.
"She found that Mike Halligan had been cashing numerous checks over the previous year without her permission," Kimberly stated. "She asked defendant Mike Halligan to transfer the house back into her name and he refused. Both defendants Mike and Daphne Halligan were verbally abusive," he said.
"They did not allow her to go to normal social functions such as church," the detective wrote. "They refused to allow her to talk on the phone most of the time."
Witness Lisa Erdahl told investigators that the defendants came to her at Elder Services in an attempt to get Betty Halligan evaluated for a move into an assisted living facility.
On July 5, 2006, police Detective Dean Sprague helped execute a search warrant on the East Rockwell home.
"During that search, he located numerous completed and blank sets of eviction kits and notices with the name of the evictee being victim Betty Halligan," records show. "He also located a quitclaim deed, transferring ownership of the (East Rockwell) home from Betty Halligan into the defendant Mike Halligan's name."
Wood's attorney, Ed Carroll, asked Superior Court Judge Linda Tompkins to give his client less time in prison.
"Daphne quit her job to take care of Jim and Betty Halligan," Carroll said. "Daphne indicated to me that at some point they did lose control. When they get out of prison they will be homeless and penniless. They have lost everything they had in this fiasco of bad judgment."
Anna Nordtvedt, who represented Michael Halligan, said the couple started out trying to help. "Somewhere along the way, they crossed the line," Nordtvedt said.
Deputy Spokane County Prosecutor Patrick Johnson said the case was a particularly heinous example of family theft.
"To compound matters, they were making arrangements to kick their own mother out of their home," Johnson said. "A prison sentence at their age is a significant sanction. I would propose it's a well-earned sanction."
As part of the settlement, Halligan and Wood agreed to give back Betty's 1993 Chevy pickup, pay back the $9,000 they stole from her accounts and sign the house back over to her.
As the hearing ended, Johnson walked over with the quitclaim deed transferring ownership back to Betty.
"There's your home back, ma'am," he said. Betty took the piece of paper in both hands, and kissed it.
"I've prayed and prayed and prayed for this," she said through tears. "I believe in prayer."
Local journalism is essential.
Give directly to The Spokesman-Review's Northwest Passages community forums series -- which helps to offset the costs of several reporter and editor positions at the newspaper -- by using the easy options below. Gifts processed in this system are not tax deductible, but are predominately used to help meet the local financial requirements needed to receive national matching-grant funds.
Subscribe now to get breaking news alerts in your email inbox
Get breaking news delivered to your inbox as it happens.
---