News > Business
Purity in a packet
Fri., July 13, 2007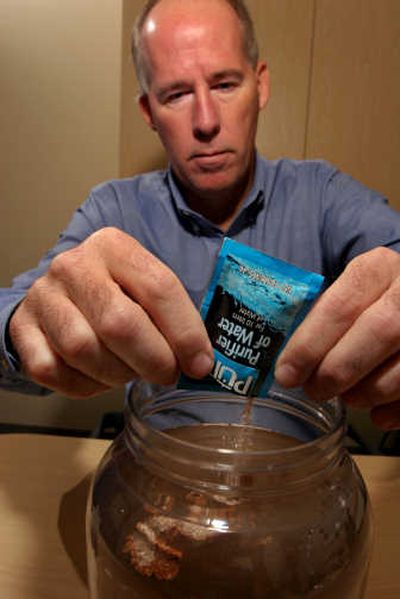 CINCINNATI – The Procter & Gamble Co. said Thursday it plans to begin U.S. sales of water-purifying packets normally used in developing countries and at international disasters.
Pur packets can disinfect and, when used with a cloth filter, remove dirt and other pollutants to make water safe for drinking.
The company, working with governments and aid agencies, says it has distributed enough Pur to clean nearly 170 million gallons of water in Africa, the Caribbean and Asia.
The Pur packets have been given out through the Children's Safe Drinking Water program – established in 2003 as the company's chief philanthropy effort – as well as rushed to overseas disasters such as the 2004 tsunami in southeast Asia, earthquakes and floods.
Greg Allgood, director of the P&G water program, said there has been a lot of interest in the U.S. for the product, which can be used by campers and hikers for recreation and others who need it in emergencies.
Allgood said it was unusual to have a product designed for developing countries later launched in the U.S.
"Usually, it's the other way around," he said.
Allgood said all P&G profits from U.S. sales of the product will go to the safe-water effort.
David Olson, a spokesman for Washington-based nonprofit Population Services International, which is a partner in the safe-water project, said selling Pur in the U.S. to subsidize the overseas program is a good idea.
"I like the idea of selling a product in a rich country, where people can use it as a convenience that could help them avoid a case of diarrhea, and using the proceeds to help poor people in a developing country, where it might mean a matter of life or death," Olson said.
Winnipeg, Canada-based Reliance Products LP will distribute Pur in the U.S., and plans to donate a portion of its proceeds to the safe-water program.
P&G has sold Pur packets to its agency partners at cost – they are usually sold to consumers in developing countries for an average of 10 cents – or donated them for disasters.
In the U.S., the packets will be sold in cartons of six, which is enough to treat 15 gallons, along with a filter starting at $15 retail.
P&G will also offer them in an emergency kit and in larger quantities for higher prices.
"We get requests every day for this product in the U.S.," Allgood said. "There will be a demand – how big it is, we don't know yet."
Allgood said P&G decided it would sell Pur packets in the U.S. after Hurricane Katrina devastated the Gulf Coast in 2005, when some aid agencies asked about using Pur there.
The Pur packets are expected to be available in the U.S. before the end of this year.
P&G shares rose $1.37, or 2.2 percent, to $62.93 Thursday.
Local journalism is essential.
Give directly to The Spokesman-Review's Northwest Passages community forums series -- which helps to offset the costs of several reporter and editor positions at the newspaper -- by using the easy options below. Gifts processed in this system are not tax deductible, but are predominately used to help meet the local financial requirements needed to receive national matching-grant funds.
Subscribe now to get breaking news alerts in your email inbox
Get breaking news delivered to your inbox as it happens.
---