News > Business
Stocks rally for records
Fri., July 13, 2007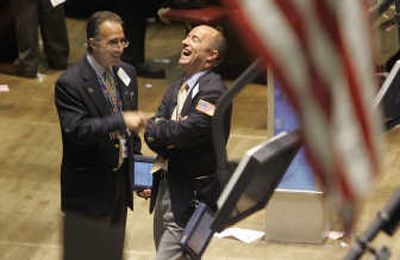 NEW YORK – Wall Street soared Thursday, propelling the Standard & Poor's 500 index and Dow Jones industrials to record highs as bright spots among generally lethargic retail sales allowed investors to toss aside concerns about the health of the economy.
The rally, which included the Dow's biggest one-day gain in more than four years, was perhaps surprising given that there was no extraordinary announcement or other catalyst usually seen with such a huge gain and that it came before most companies have announced their second-quarter earnings. The rise also marked a sharp contrast to the start of the week, when stocks fell sharply amid concerns that some hedge funds could succumb to ill-placed bets on the housing sector.
But investors, heartened by signs of a happy and spending consumer, clearly decided to put some bets on the table.
Though retail sales generally appeared to be crimped last month by higher gasoline prices and a tepid housing market, and the outlook for the coming months was difficult to ascertain, the overall reading wasn't as dour as some investors expected.
Several reports beat Wall Street expectations – notably that of Wal-Mart Stores Inc., the world's largest retailer, which posted a better-than-expected 2.4 percent jump in sales at stores open at least a year.
"It's relief that things weren't as bad as people expected," said Bill Schultz, chief investment officer at McQueen, Ball & Associates, referring to the retailers' reports and the economy at large. "We're maybe getting slower growth but not the fall-of-the-cliff economic scenarios," he said of investors' reading of the economy.
But, Schultz said, "I think it is, over the near-term, a little bit over done, certainly on a two-day basis," he added, referring to the rally.
The S&P 500 rose 28.94, or 1.91 percent, to 1,547.70, above its record close of 1,539.18, set June 4.
The Dow shot up 283.86, or 2.09 percent, to 13,861.73; its previous record close was 13,676.32, also set June 4.
The Nasdaq composite index rose 49.94, or 1.88 percent, to 2,701.73. The index, bloated by the late 1990s tech boom, is nowhere near its closing record of 5,048.62, set in March 2000.
The report from Wal-Mart, one of the 30 companies that make up the Dow, helped ease some investors' worries about the health of the consumer ahead of the Commerce Department's Friday report on U.S. retail sales.
"This is the first positive month Wal-Mart has had in a while," said Doug Roberts, chief investment strategist for investment research company Channel Capital Research, citing one reason for the market's move higher. "The market has a split personality. This is the other side of the personality," he said, referring to the turnaround from sentiment from Monday.
"The kind of disaster situation that everybody was preparing for doesn't seem to be playing out."
Stocks' ascent Thursday after mostly unremarkable trading in recent weeks could also reflect so-called short covering.
Investors who sell stocks short are betting the stock will fall and can be forced to buy stocks when markets move higher.
Bonds fell, with the yield on the benchmark 10-year Treasury note rising to 5.13 percent from 5.09 percent late Wednesday. The dollar was generally lower against other major currencies, dropping to a new record low versus the euro and a 26-year low against the British pound. Gold prices rose.
Wall Street, whose advance this year has been powered in part by a cascade of buyout news, received an additional boost after mining company Rio Tinto offered to buy Canadian aluminum producer Alcan for $38.1 billion. The offer topped a bid from Alcoa Inc. that Alcan's board rejected in May. Alcoa said after the closing bell that it is dropping its bid.
Alcan and Alcoa shares jumped Thursday following Rio Tinto's move to top Alcoa's hostile bid for Alcan.
Alcan rose $8.85, or 9.9 percent, to $98.45, after hitting a 52-week high of $99.97. Alcoa shares rose $2.86, or 6.7 percent, to $45.29, topping a 52-week high of $42.90.
Local journalism is essential.
Give directly to The Spokesman-Review's Northwest Passages community forums series -- which helps to offset the costs of several reporter and editor positions at the newspaper -- by using the easy options below. Gifts processed in this system are not tax deductible, but are predominately used to help meet the local financial requirements needed to receive national matching-grant funds.
Subscribe now to get breaking news alerts in your email inbox
Get breaking news delivered to your inbox as it happens.
---