News > Spokane
Temperatures keep rising
Sat., July 14, 2007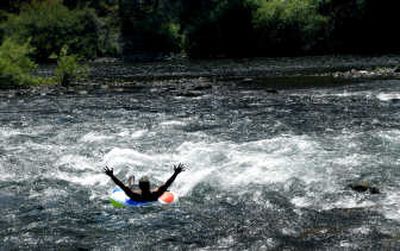 Global warming should not necessarily be blamed for the current hot weather, but it could be making hot days hotter and more frequent, scientists said this week.
"You can't single out one particular event as global warming," said Josiah Mault, assistant state climatologist in Washington. But then again, "It's the sort of thing you'd expect with global warming," he said.
The hottest day ever in Spokane and Coeur d'Alene came on Aug. 4, 1961, a day that longtime residents will remember as the mother of all sizzlers. The thermometer reached 108 in Spokane and 109 in Coeur d'Alene that day, which came years before scientific papers and Live Earth concerts started warning us about climate change.
A truer measure of potential warming can be found by comparing long-term average temperatures. "It's what happens over the years," said John Livingston, meteorologist in charge of the Spokane office of the National Weather Service.
Weather records from Spokane and Coeur d'Alene show that things have indeed been getting warmer, and the trend is being felt throughout the Pacific Northwest.
Since 1948, the average annual temperature in Spokane has increased by slightly more than 2 degrees, according to an analysis by the Spokane NWS office. That was the year that record keeping was moved from Felts Field in east Spokane to Geiger Field, now known as Spokane International Airport.
Records before that also show a rise in average temperatures, but those increases might also have reflected the natural climate fluctuation that caused the Dust Bowl across a broad swath of the country, said Ron Miller, science operations officer for the Weather Service in Spokane.
Separate analyses by the Washington state office of climatology show that Coeur d'Alene and other locations across the Pacific Northwest have had substantial increases in average temperatures over the past century. Coeur d'Alene also saw nearly a 2 degree increase in average temperature in the past 60 years.
"There's a definite warming trend for every location," said Mault, who has created an interactive Web map that shows the changes.
(To view the map, go to www.climate.washington.edu/ trendanalysis/.)
Scientists also report that development in urban areas – with its increase in building, pavement and other reflective surfaces – has increased daily temperatures in what are called "heat islands."
Compared with Spokane and Coeur d'Alene, a rural weather station operated by the University of Idaho east of Priest River has shown a temperature increase of less than 2 degrees in the past 50 years.
Another way of comparing hot summers is to count the number of days when the temperature reaches 90 degrees or hotter.
In 1958, Spokane had 39 days at 90 or above, the highest number of such days since record keeping began here in 1881.
At that time, the average number of 90-degree-plus days was 16.5 a year. The average number has increased to 21.8 days of 90 degrees or hotter.
But can global warming be blamed for increasing temperatures on a regionwide basis?
Maybe, maybe not, said Nathan Mantua, associate research professor with the Climate Impacts Group at the University of Washington.
While scientists worldwide largely agree that man-made greenhouse gases are causing global temperatures to rise, it has not been proven that global changes are causing higher temperatures in the Pacific Northwest, he said.
"It hasn't been established without a reasonable doubt," Mantua said. "There's a lot of evidence building, and every year that evidence gets stronger and stronger."
Greenhouse gases include carbon dioxide from combustion of fossil fuels, methane and others. Scientists say they act like a blanket by absorbing heat energy and preventing that heat from escaping into space. Thus, nighttime temperatures can be expected to rise more rapidly than daytime temperatures under global warming, Miller said.
A white paper issued in 2005 through a cooperative effort of Washington state scientists said that man-caused global warming is likely to be more severe in North America, especially at higher latitudes. The Inland Northwest is in middle latitudes.
Worldwide, temperatures increased by 1 degree from 1900 to 2000.
"Although some of the past century's warming may be due to natural causes, most of the warming to occur between 1950 and 2000 can be attributed to greenhouse gases caused by human activities," the report said.
Local journalism is essential.
Give directly to The Spokesman-Review's Northwest Passages community forums series -- which helps to offset the costs of several reporter and editor positions at the newspaper -- by using the easy options below. Gifts processed in this system are not tax deductible, but are predominately used to help meet the local financial requirements needed to receive national matching-grant funds.
Subscribe now to get breaking news alerts in your email inbox
Get breaking news delivered to your inbox as it happens.
---