News > Spokane
Fast start for top Cougar
Mon., July 16, 2007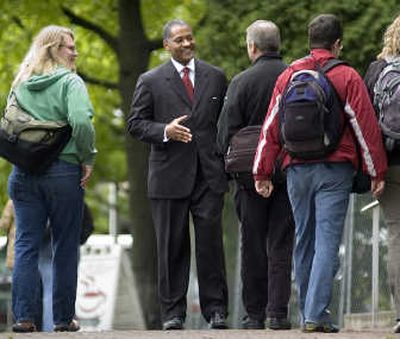 Two days after Elson Floyd took over as Washington State University's president, he announced a shuffling of administrators in the office of student life.
In the ensuing eight weeks, he's moved with a similar speed – naming three administrators he's worked with before to posts as vice presidents; promising $1 million for improved child care on campus; pledging $400,000 to cover a funding shortfall at Spokane's People's Clinic; and moving WSU's economic development office to Seattle.
The actions came with a speed that defies the typical way big decisions are made on campus, which has impressed some and left others concerned.
"In academia, we always think we have to have 25 committees and think about it for two years," said Nancy Shrope, assistant director of the Office of Grants and Research Development.
Shrope, who's worked at WSU through the presidencies of Glen Terrell, Sam Smith and V. Lane Rawlins, said she thinks Floyd is making necessary changes and moving quickly to improve things.
"I am aware that he worked very closely with President Rawlins on the transition, so he's had a head start on a lot of things," she said. "Instead of walking in the door cold turkey on May 21, he was already prepared.
"He's made some changes very quickly, but I don't think he's shooting from the hip," she said.
Others are questioning at least the personnel decisions, which have come without a search process, candidate interviews or input from a committee or several parties.
"If you do a search, you get a pool of candidates and see the most qualified people," said Jeff Jones, a chemistry professor at WSU. "If you just hire based on who you know, that's a small pool."
Floyd said that he wanted to put together his leadership team before the academic year, because most candidates won't leave a position during the school year. He also said that "targeted recruitment" isn't uncommon on campuses, from key faculty positions to top administrators, and that his hires so far reflect his dedication to diversity and excellence in filling those positions.
"I am deeply committed to making this the most talented and diverse team in the nation," he said. "I was faced with a choice – wait 12 more months (to have his team on board) or quicken the pace and make these strategic hires."
Floyd is also examining the school's overall mission and considering what may need to be cut in order to focus on WSU's strengths – such as animal health and agriculture. He told a group on campus Thursday that he'd developed a "very private" list of programs, and that he would work with faculty to decide which ones might be eliminated, according to an article in Friday's Moscow-Pullman Daily News.
Charles Pezeshki, the chairman of the Faculty Senate and a member of the committee that recommended Floyd for the presidency, said the fast action is a sign of leadership.
He said that it was important to quickly hire a vice president of economic development – the top administrator who will oversee efforts to attract research funding, create relationships with businesses and push to contribute university efforts toward the state's economy. That position is increasingly important to keeping the university financially healthy, Pezeshki said.
Floyd hired John Gardner for the position; Gardner held the same job under Floyd at the University of Missouri.
"I think waiting for two more years to fill the position would not do the university any good," Pezeshki said.
Jones said he understands that some hires may be more urgent than others, and that he knows from running his own small business that hiring people you know and trust is sometimes smart. But he said that the typical process of university hiring – which can take months to years and involve many members of the department in question– is intended to ensure the quality of candidates and ultimately benefits the university.
He said WSU is emerging from Rawlins' presidency in relatively good shape – not in the kind of crisis that might require rapid change.
"It's really not common management practice to come in and instantly make changes," he said.
Floyd notes that this is his third presidency, and that he knows what he needs to do in some cases without a lot of consultation. Good examples of that, he said, were his decision to pledge $1 million for improved child care on campus – something that had been the subject of a task force, petition drive and other efforts by faculty members on campus – and to cover a $400,000 funding shortfall at Spokane's People's Clinic, just one day after the funding was lost. The WSU funding will give the clinic's low-income clients time to find other options for health care, Floyd said.
"It's not going to take me a month to come to that conclusion," he said. "I knew it immediately."
Pezeshki sees that as a good thing.
"It didn't take him long to act," he said. "He came in and made a really profound statement that people were going to be a priority."
Local journalism is essential.
Give directly to The Spokesman-Review's Northwest Passages community forums series -- which helps to offset the costs of several reporter and editor positions at the newspaper -- by using the easy options below. Gifts processed in this system are not tax deductible, but are predominately used to help meet the local financial requirements needed to receive national matching-grant funds.
Subscribe now to get breaking news alerts in your email inbox
Get breaking news delivered to your inbox as it happens.
---