News > Nation/World
Bush seeks talks on Mideast peace
Tue., July 17, 2007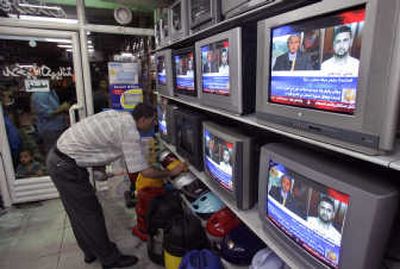 WASHINGTON – Declaring a "moment of choice" in the Middle East, President Bush said Monday he would call Israel, the Palestinians and others in the region to a peace conference aimed at restarting stalled talks and moving faster toward a Palestinian state.
Such a session could result in Israelis sitting at the same conference table as countries such as Saudi Arabia that do not recognize Israel diplomatically.
Bush said the conference, open to countries in the region that support a two-state solution to the long Israeli-Palestinian standoff, would be headed by Secretary of State Condoleezza Rice.
He also pledged more U.S. financial support for the moderate Palestinian government of Mahmoud Abbas and called for the convening of a group of "donor" countries to increase international financial aid, including Saudi Arabia, Egypt and Jordan.
In an appeal directed at the divided Palestinian people, Bush drew a contrast between what he said life would be like under an Abbas government and under the rule of the Islamic militant group Hamas, which gained authority over Gaza in June. Abbas now controls only the West Bank.
"This is a moment of clarity for all Palestinians. And now comes a moment of choice," Bush said in a speech intended to signal a new resolve on the part of his administration to help restart the stalled peace process.
"Iraq is not the only pivotal matter in the Middle East," Bush said.
In Gaza, Hamas spokesman Sami Abu Zuhri said, "Bush's statements come in the context of garnering support for Abbas to fight Palestinian legitimacy, represented by Hamas."
"We affirm that all promises made by Bush are false promises. The promise to form a Palestinian state is old. It will not be implemented. The opposite, instead, has happened. Instead of two states, he has divided our people into two governments," said the Hamas spokesman.
Israel welcomed Bush's remarks. "We share his vision of two states and the need to support the moderate Palestinians who believe in peace," said Israeli Foreign Ministry spokesman Mark Regev. "Moving forward in the peace process demands zero tolerance for terrorism," Regev added.
Bush voiced strong support for Abbas and his moderate government. He noted that the United States has pledged more than $190 million in direct assistance to the Palestinians, most of it already approved, and that the Overseas Private Investment Corp., a quasi-governmental unit, was making another $228 million available in loan guarantees.
Bush said the conference would include only "nations that support a two-state solution, reject violence, recognize Israel's right to exist, and commit to all previous agreements between the parties."
Local journalism is essential.
Give directly to The Spokesman-Review's Northwest Passages community forums series -- which helps to offset the costs of several reporter and editor positions at the newspaper -- by using the easy options below. Gifts processed in this system are not tax deductible, but are predominately used to help meet the local financial requirements needed to receive national matching-grant funds.
Subscribe now to get breaking news alerts in your email inbox
Get breaking news delivered to your inbox as it happens.
---