News > Nation/World
Bush's proposal for Mideast talks gets mixed reaction
Wed., July 18, 2007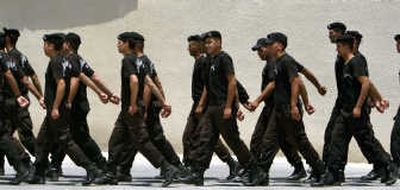 JERUSALEM – President Bush's declared intention to refocus on the Middle East by sponsoring a peace conference this fall won cautious endorsement Tuesday from Israeli, Palestinian and other Arab leaders who will be invited. But many in the region voiced skepticism about what it could achieve.
Five years after calling for creation of a Palestinian state next to Israel, Bush on Monday announced his renewed commitment to that goal during the final 18 months of his presidency, saying this is a "moment of choice" for the region.
But officials and analysts immersed in the six-decade-old conflict said the initiative faces many obstacles: an untenable split among the Palestinians, weak leadership in the Israeli and Palestinian camps, widely differing expectations for the conference, and a sense that Bush is acting too late.
Recalling the 2002 policy speech in which Bush boldly set a three-year deadline for a peace settlement, Israeli columnist Nahum Barnea wrote of a "shrunken" American leader who, after long inattention to the conflict, took care in his address Monday not to specify any timetables.
Several Israeli and Arab commentators said Bush's initiative could fall victim to his own risky strategy: promoting peace talks between Israel and the Fatah-led Palestinian entity on the West Bank, while isolating the Hamas movement that controls the Gaza Strip and calls for Israel's destruction. They warned that Hamas, which denounced the Bush plan as a "crusade" against Palestinians, is strong enough militarily to sabotage any progress toward a settlement.
America's Arab allies welcomed Bush's call for a meeting without promising to take part.
"The devil is in the details, and we want to see the details," said Arab League spokesman Hisham Yussef. He said Arab countries invited to the gathering "will evaluate it based on its likely outcome."
Saudi Arabia welcomed the initiative, saying it wanted the conference to "be part of a serious international effort tackling core issues of the conflict."
The statement did not say whether Saudi Arabia would take part in the meeting, as Egypt and Jordan are widely expected to do and as Bush and the Israelis clearly want. Egypt and Jordan have diplomatic relations with Israel, but Saudi Arabia does not; its participation would be seen as a breakthrough in Middle East diplomacy.
"Despite all the suspicions over Bush's intentions, his absolute bias toward Israel and the violence he has spread in the region, we should interact with this initiative," said Mohamed Sayed Said, an international affairs specialist at Cairo, Egypt's Al Ahram Center for Political and Strategic Studies. "For the first time, Bush proposes a round of negotiations that addresses the fundamental issues."
Local journalism is essential.
Give directly to The Spokesman-Review's Northwest Passages community forums series -- which helps to offset the costs of several reporter and editor positions at the newspaper -- by using the easy options below. Gifts processed in this system are not tax deductible, but are predominately used to help meet the local financial requirements needed to receive national matching-grant funds.
Subscribe now to get breaking news alerts in your email inbox
Get breaking news delivered to your inbox as it happens.
---