Sports
Low, Weaver make Pan Am team
Wed., July 18, 2007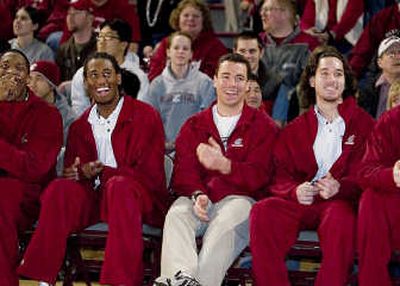 After five trial sessions and four practices spread over five days, Washington State seniors-to-be Derrick Low and Kyle Weaver are finally able to relax.
A little.
They are part of USA Basketball's Pan American Games team, the first Cougars to earn the honor.
The 12-member team was named Tuesday and only one school had two players on the squad that will travel to Brazil next week: WSU.
"Two of our kids on the elite, the best non-NBA team they could put together," Cougar coach Tony Bennett said, "and two of our guys went there and made the team of 12. That's awesome."
The Pan Am Games, featuring athletes from Western Hemisphere countries, are already underway in Rio de Janeiro, with basketball set to begin July 25. The U.S. men's team is coached by Villanova's Jay Wright.
The team, which includes only one other Pac-10 player (Oregon's Maarty Leunen), will continue to practice at the trials' site, Haverford College in Haverford, Penn., through Wednesday. The team will move to Washington, D.C., Thursday and practice at the Verizon Center until Saturday.
"The one thing a couple of the NBA scouts I talked to and the selection people said, they stayed true to who they were as players," said Bennett, explaining how Low and Weaver survived the tryout gantlet.
"Kyle really defended and showed his versatility, grabbing rebounds, deflecting passes, getting in the lane, making plays. Derrick was just very unselfish and steady and then showed his ability to shoot the ball. He played the point actually, and just did a heck of a job.
"They stayed within themselves but then took advantage of the opportunities that were there," he continued, mentioning he was able to attend the early part of the tryouts. "It was good to see that was rewarded because at those things guys can get a little edgy. Guys think 'I've got to show this,' or 'I've got to show that,' and press a little bit. But I don't think those guys did that from what I heard. They just played. It showed they are really good teammates and have ability but they are going to play a team game. I think that was impressive to coach Wright and the guys who selected (the team)."
Joining the United States in preliminary Group A are Argentina, Panama and Uruguay. The U.S. team will open with Uruguay on July 25.
And Bennett has an idea of what will be in store for Low and Weaver, the leaders of last year's 26-8 Cougar team that finished ranked 17th in the nation. After all, Bennett played in the 1991 Pan Am Games in Havana, Cuba, averaging 6.1 points and a team-leading 3.3 assists per game for a squad that finished third, losing to champion Puerto Rico in the semifinals.
"For them, it is a great experience," Bennett said. "To go down there and play against the elite players, to get the international experience, to play at a really high level on a big stage, it's just an experience you put in the bank. It is one they'll remember for the rest of their lives, regardless of what happens in their future.
"They say it all the time, but until you do it, you don't know what it's like. I was like, 'man, I'm representing my country and I've got a chance to win a gold medal.' When they go through those ceremonies they'll know this deal is for real. They'll say 'this is no small thing, it's pretty special.' "
The Pan Am Games are held every four years, with the U.S. finishing fourth in 2003 at Santo Domingo, Dominican Republic. The United States won the last of its eight gold medals in 1983.
"This was (as) difficult of a decision as any I've been involved in with USA Basketball," Wright said in a USA Basketball release. "Every kid here could play on this team and we would be proud to take them to Brazil. We just had to decide do we want to play with some extra guards and some extra bigs and maybe not as many wings, and that's really what it came down to.
"Now I think everybody will feel 'alright we're in this' and now we're going to go down there as a team, as a family, and were going to start building that now. We've got to learn who is going to play what spots, who's going to have what roles, and I think it will move quickly now that we know who the squad is."
Local journalism is essential.
Give directly to The Spokesman-Review's Northwest Passages community forums series -- which helps to offset the costs of several reporter and editor positions at the newspaper -- by using the easy options below. Gifts processed in this system are not tax deductible, but are predominately used to help meet the local financial requirements needed to receive national matching-grant funds.
Subscribe to the sports newsletter
Get the day's top sports headlines and breaking news delivered to your inbox by subscribing here.
---