News > Nation/World
N. Korea nuclear shutdown verified
Wed., July 18, 2007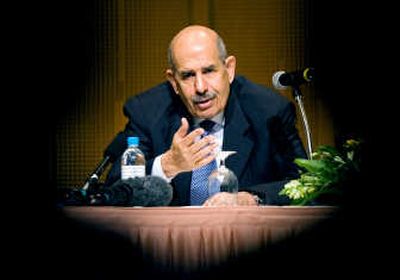 BEIJING – U.N. inspectors have verified that North Korea has shuttered all facilities at its main nuclear complex beyond its sole working reactor, the chief of the watchdog agency said today, as envoys gathered for six-nation talks on the next steps toward Pyongyang's disarmament.
Mohamed ElBaradei, chief of the International Atomic Energy Agency, announced earlier in the week that his team of inspectors had verified the shutdown of North Korea's only working nuclear reactor at Yongbyon, 60 miles north of Pyongyang.
His announcement today confirmed the shutdown of four additional facilities, including two long-dormant construction sites for larger reactors and facilities for making reactor fuel and reprocessing it to harvest plutonium for bombs.
"We have verified all the five nuclear facilities have been shut down," ElBaradei told reporters during a visit to Kuala Lumpur, Malaysia. He said the U.N. inspectors had sealed some of the facilities.
The verification came as negotiators gathered in Beijing for talks expected to focus on setting a schedule for North Korea to declare all its nuclear programs and then disable them so they cannot be easily restarted.
The North has pledged in principle to eventually abandon its nuclear facilities, and Washington hopes that can be accomplished by the end of the year.
But proceeding beyond the reactor's closure is "a road that nobody has ever walked on," South Korean envoy Chun Yung-woo said.
Local journalism is essential.
Give directly to The Spokesman-Review's Northwest Passages community forums series -- which helps to offset the costs of several reporter and editor positions at the newspaper -- by using the easy options below. Gifts processed in this system are not tax deductible, but are predominately used to help meet the local financial requirements needed to receive national matching-grant funds.
Subscribe now to get breaking news alerts in your email inbox
Get breaking news delivered to your inbox as it happens.
---