Sports
Captain of comeback
Fri., July 20, 2007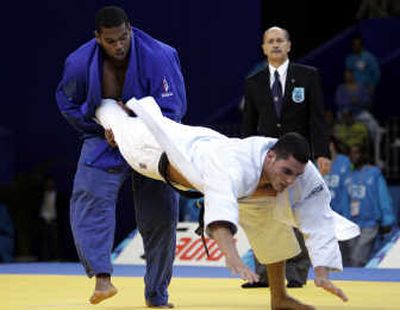 RIO DE JANEIRO, Brazil – Valerie Gotay left her sport ill and depressed. Not broken, however, and that eventually led to her return to judo. And now to the Pan American Games.
The 33-year-old Gotay is the U.S. team captain in Rio and one of the favorites in the 57-kilogram class. That might not seem like a big deal, except that Gotay quit the sport after the Barcelona Olympics in 1992 and only returned three years ago.
Her comeback is even more remarkable considering what she went through in Barcelona, and the fact she had two daughters while away from competitive judo.
In Spain, Gotay was having trouble making the 106-pound limit, an unnatural weight for her after she had gone through a growth spurt in the eight months between being selected for the Barcelona Games and the opening ceremony. She collapsed, was hospitalized and went into convulsions.
"It was such a big letdown for me and very depressing and I didn't want anything to do with judo anymore," she said. "That's why I felt it was time to retire. I also started at the age of 4, made my first national team at 14, so from 4 to 18 it was judo, judo and judo. I was a bit burned out, and coupled with what had happened at the Olympics, it made me step away."
Gotay estimates it took two years to fully recover. She was in and out of hospitals and other medical institutions, and judo wasn't in her plans.
Fifteen years later is a pretty good time for Gotay. She is in line for a berth on the U.S. team for Beijing, a stunning achievement considering the layoff.
And considering she made a couple of aborted comebacks during the nearly 12 years away from judo.
But Gotay "never got that buzz or thought: I want be out there." So she and husband Angel had two children: Breanna, now 10, and Isabella, 5. Gotay became a full-time mom.
By 2004, however, the buzz was back. She saw an opportunity to get back in shape and shoot for Beijing.
"I took time off to have my babies and eventually saw I could get back," she said. "My personality, I missed the training and the love of the sport was still there. I always stay current with the players, watched the worlds, would buy all the DVDs, went to whatever tournaments I could just to watch."
Local journalism is essential.
Give directly to The Spokesman-Review's Northwest Passages community forums series -- which helps to offset the costs of several reporter and editor positions at the newspaper -- by using the easy options below. Gifts processed in this system are not tax deductible, but are predominately used to help meet the local financial requirements needed to receive national matching-grant funds.
Subscribe to the sports newsletter
Get the day's top sports headlines and breaking news delivered to your inbox by subscribing here.
---