News > Spokane
A hot issue at City Hall
Mon., July 23, 2007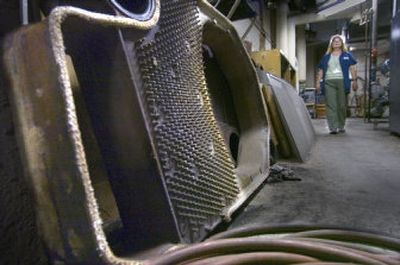 Spokane City Council tonight will consider a new heating and cooling system for City Hall with a cost that's about a third of the value of the whole building.
The price tag is causing apprehension among some council members.
"If this was not a government building, would it still cost us that amount of money?" asked Councilwoman Nancy McLaughlin.
But administration officials say the heating system installed in 1981 is dying, and the $3.6 million contract for a new one is a good deal with guaranteed annual savings. The money would come from the city's 2006 budget surplus.
Dorothy Webster, the city's general administration director, said the current system is inefficient and often malfunctions. It provides poor heating and cooling to the top three floors and not enough cooling to the room that houses the city's computer infrastructure, she added.
"It's something that's getting incredibly difficult to find parts to patch it," Webster said. "We can't really regulate the temperature throughout the building so that it is one constant level of comfort."
The city didn't put the work out for bid. Instead, it joined a state program through the state's General Administration department that is overseeing the process. Last year, the state provided the city a list of seven companies to plan a new system. Spokane leaders chose McKinstry, which is headquartered in Seattle and has a Spokane office.
The $3.6 million contract up for consideration would guarantee no cost overruns and that the price of running the system will be at least $86,000 a year less than what the city pays now. McKinstry will oversee construction and along with the city put out for bid items and work needed for installation, which could lower the final price, Webster said.
McKinstry will receive $754,000 of the $3.6 million, $350,000 of which is overhead and profit.
Councilman Bob Apple said any new system would give the city large annual savings in energy costs. He noted that the price tag is more than the $3.4 million for which Eastern Washington University sold its downtown center earlier this year.
But Webster said a more important comparison is what it would cost to build a new city hall, which the administration has estimated at $40 million.
Councilman Rob Crow said he's comfortable with the contract after examining line items and because of the guarantees of no overruns.
Local journalism is essential.
Give directly to The Spokesman-Review's Northwest Passages community forums series -- which helps to offset the costs of several reporter and editor positions at the newspaper -- by using the easy options below. Gifts processed in this system are not tax deductible, but are predominately used to help meet the local financial requirements needed to receive national matching-grant funds.
Subscribe now to get breaking news alerts in your email inbox
Get breaking news delivered to your inbox as it happens.
---