News > Business
She's still in tune with computers
Mon., July 23, 2007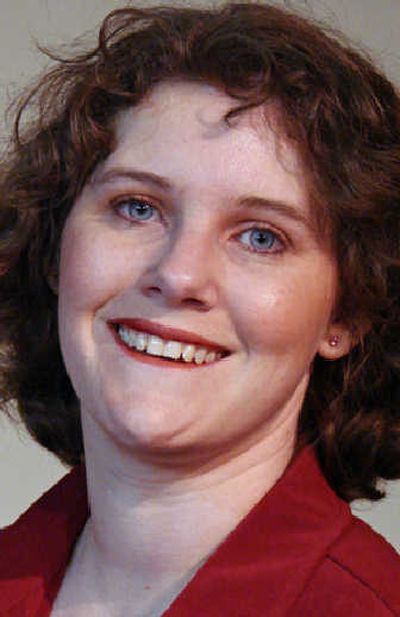 Editor's Note: Janean Jorgensen's full-time "day job" is marketing and Web design for Spokane Public Radio KPBX and KSFC FM. She hosts/produces Matinee at 11 a.m. Wednesday. Her theater habit includes acting (www.spokane centerstage.com/ centerstage) and prop master for ARt (www.actorsrep theatre.com).
My dad made a living in computers back when they were "business machines," and I grew up playing with punch cards and early mass-produced computer equipment.
When the first modems were available — the kind with a nest for the earpiece of your regular telephone receiver — I wanted dad to get one for our computer. "Whose computer are you going to connect to?" he asked.
Today, I connect to hundreds of computers, or their Web sites, every week. I think I always knew that there were other artistic nerds out there whom I could learn from and share with if I could only connect with them.
The computer was the way to do it.
Work-related
At work for Spokane Public Radio, I regularly check the program producer sites of shows we air — National Public Radio ( www.npr.org), American Public Media ( www.publicradio.org), Public Radio International (pri.org). Shows also have their own specific sites where I can hear archives. My favorites are Wait Wait Don't Tell Me (npr.org/programs/ waitwait) and This American Life ( www.thislife.org).
Another great place to listen to unusual radio is the Public Radio Exchange at www.prx.org, a nonprofit service for distributing radio pieces. People who want to try their hand at producing documentaries or themed music shows for public radio can sign up and upload their audio to that site. It's a great way for independent producers to learn about the system.
Because of the odd and varied nature of our programs, I need an odd and varied graphics library. For example, the free KPBX Kids' Concert on Aug. 10 is "Music from the Americas," so for our Web site and print advertisements I want something representative of south-of-the-border music.
I look at stock image sites frequently, and I like Crestock.com best because it picks an image to offer as the freebie of the day. It even offers an RSS feed so I can easily check it daily. When you're a nonprofit, "free" is good.
I look for other images through Google (images.google.com). It shows a thumbnail of images and gives their sizes, so I won't waste time looking at images that are too small. The sites usually have a webmaster contact so I can ask permission to use unique photographs; given enough time, they generally say yes. (It's amazing how many times I hear, "A RADIO station wants PHOTOS?")
Odds and ends
Something new I'm playing with is the "game" of Image Labeler, found at www.images. google.com/ imagelabeler, which really functions as a way Google can clean up its image keyword database.
Two people online are given a series of photos and are given a couple of minutes to type in keywords relating to that photo. The more specific and unique the keywords, the higher the points. A great way to waste a few hours in the name of improving a service I use anyway.
Local journalism is essential.
Give directly to The Spokesman-Review's Northwest Passages community forums series -- which helps to offset the costs of several reporter and editor positions at the newspaper -- by using the easy options below. Gifts processed in this system are not tax deductible, but are predominately used to help meet the local financial requirements needed to receive national matching-grant funds.
Subscribe now to get breaking news alerts in your email inbox
Get breaking news delivered to your inbox as it happens.
---