News > Spokane
Wildfire burns two homes
Mon., July 23, 2007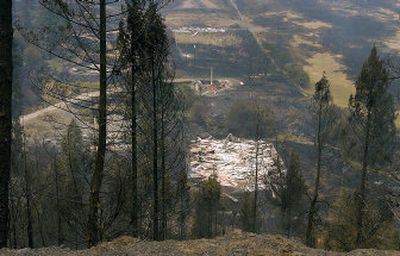 A fast-spreading fire south of Lewiston that has destroyed two homes and several other structures is making residents of White Bird, Idaho, nervous.
"It's really bad," said Kurt Killgore, who sought refuge Sunday at Mac's Bar & Grill because he's unable to get to his own shop, Killgore Adventures, located just inside the Hells Canyon National Recreation Area. "You see huge flames blowing over the canyon."
A few miles southwest of the hamlet nearly 200 firefighters were scrambling to get the upper hand on the 28,000-acre Poe Cabin fire, which was ignited by a lightning strike last week.
High temperatures, dry conditions and winds have contributed to its spread. Authorities estimate it could be mid-August before the blaze is under control.
Rick Alley at the Silver Dollar Bar and Café said that before the smoke blew into town two nights ago, he could see more of what was going on with the fire.
"You could see it," he said. "It was really scary."
Now residents are bracing for the possibility of a new round of evacuation orders and trying to keep it in perspective.
"We've got a ringside table," Hootie McReynolds, owner of Hoots Café, Gas Station and Motel, said of the fire. "It's really a picture at night."
She said she could see the flames travel up hills and knows people who are moving their cows to safer locations.
Fire spokesman Chuck Stanich said the fire destroyed a hunting outfitter's ranch as it raced through tree crowns and shot out embers that created spot fires up to a mile away.
The owner of Boulder Creek Outfitters, Tim Craig, said he lost a house, barn, bunkhouse and cabin. "We lost our whole ranch," Craig told the Lewiston Tribune. "We were all by ourselves. Nobody was there."
Because of the number of dwellings in the Poe Cabin area, the fire was the top priority in the Northern Rockies area for firefighting resources, Stanich said.
"Communities to the north and east of the fire are all threatened," Stanich said.
Meanwhile, the Windy Ridge Complex fire in Stevens and Ferry counties has been 100 percent contained, according to the Colville National Forest and Department of Natural Resources.
The fire, started by lightning July 13, consisted of three fires: the Windy Ridge fire, which burned 218 acres; the Bulldog fire, which burned 109 acres; and the Crown Creek fire, which burned 35 acres.
No structures were threatened.
Officials are crediting cooler weather and higher relative humidity for keeping the fire manageable.
Crews are using hand-held infrared devices to locate hot spots in the Windy Ridge fire and are beginning mop-up operations at all three locations.
In southern Idaho, a wildfire that grew by an estimated 200 square miles in 24 hours was threatening facilities at an Air Force training range on Sunday, fire officials said.
The lightning-caused Murphy Complex of fires covered about 886 square miles and was burning less than a mile from a training range of Mountain Home Air Force Base.
The Saylor Creek range is used by pilots before heading to Iraq and Afghanistan.
Officials with the base's security and fire departments on Sunday declined to comment about what type of facilities, if any, were at risk or how vulnerable they might be.
Chuck Dickson, an information officer for the fire, said tracking and radar facilities were at risk, but he was unsure what else was on the range.
"When a fire moves as quickly as this one does, pushed by the wind, it creates a very hot heat front," Dickson said. "That will impact even steel structures quite easily."
The fire was about 15 percent contained, fire spokeswoman Pam Bierce said, and mandatory evacuations remained in effect for Jarbidge, Nev.
An evacuation order for Murphy Hot Springs was lifted for residents only.
Ranches in the area were threatened, grazing area had been lost, and cattle likely had died in the fast-moving blaze, he said.
He didn't have an estimate of how many cattle were on grazing allotments within the fire's perimeter.
About 7,500 residents in the sparsely populated region were threatened by the fire, but no one has been seriously injured, Dickson said.
Local journalism is essential.
Give directly to The Spokesman-Review's Northwest Passages community forums series -- which helps to offset the costs of several reporter and editor positions at the newspaper -- by using the easy options below. Gifts processed in this system are not tax deductible, but are predominately used to help meet the local financial requirements needed to receive national matching-grant funds.
Subscribe now to get breaking news alerts in your email inbox
Get breaking news delivered to your inbox as it happens.
---