News > Business
New airplane wins approval
Tue., July 24, 2007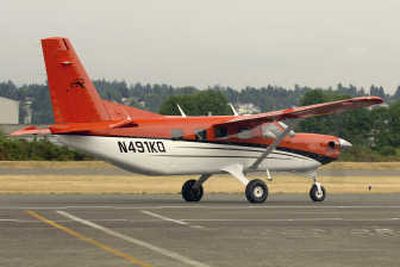 The Kodiak — a single-engine plane designed to fly humanitarian missions to remote corners of the globe — has been cleared for takeoff.
Quest Aviation of Sandpoint received federal approval last week to begin manufacturing and selling the plane, after passing scrutiny from the Federal Aviation Administration.
Full FAA certification is still about a year away, said Paul Schaller, Quest's president and chief executive officer. But the federal government's "type certification" allows the company to begin producing the plane with FAA oversight, he said.
Quest already has 100 orders for the turboprop planes, which will retail for nearly $1.3 million. The firm has built two airplanes, a prototype and a fully operating model. Eventually, two aircraft per week will roll off the assembly line at Quest's 84,000-square-foot manufacturing facility in Sandpoint, Schaller said. But at the moment, Quest has a three-year backlog of orders.
The Kodiak can take off from 700-foot runways, or be outfitted with floats for water landings deep in the Amazon jungle. Nine of the plane's 10 seats are removable, so pilots can haul cargo as well as passengers. The planes also run on jet fuel, which is more readily available and less costly than aviation fuel in developing countries.
"If you're in Indonesia, trying to buy aviation fuel, you might not be able to get it," Schaller said. "Or, it might cost $14 per gallon, instead of the $4 per gallon you'd pay in the U.S."
Quest Aviation got its start in 1998, following a chance meeting between Dave Voetmann, a former Mission Aviation Fellowship pilot who once delivered food and medicine to refugee camps in the West African nation of Mali, and Tom Hamilton, a former kit plane manufacturer. The two men started discussing designs for the ideal mission airplane.
They recruited a group of business executives to raise the initial $2 million to start Quest Aviation. Voetmann lives in the Seattle area. Hamilton, is the president of Aerocet Inc. in Priest River, which makes floats for planes. He designed the Kodiak, and serves as Quest's chief technology officer.
Quest has spent more than $25 million developing the Kodiak, said Schaller, who declined to give out specific numbers. The work was funded by customer deposits on planes and loans from wealthy individuals who believe in Quest's mission, he said.
"We're a for-profit company with nonprofit goals," Schaller said. "Our goal is to sell aircraft, and to make money doing that, so we can provide discounts on planes for mission aviation."
Company officials expect the Kodiak — which they describe as a "utility workhorse" — to have plenty of cross-over appeal. A Nigerian firm wants to use the plane to start passenger and cargo service to remote areas in that county's interior, Schaller said. He also envisions the Kodiak transporting biologists for aerial wildlife counts, and hunting and fishing guides using the plane for backcountry excursions.
Quest officials are in Oshkosh, Wis., this week for the Experimental Aircraft Association Fly-in, an annual event that attracts thousands of aircraft enthusiasts.
The Kodiak has parallels to durable DeHavilland Beavers, which were designed to operate in Canada's far north, Schaller said. Despite the fact that the Beavers went out of production in the late 1960s, many of the long-lasting planes are still flying.
Many mission pilots currently fly Cessna Caravans, a popular plane also used by Federal Express. However, the Kodiak is more versatile for hauling passengers.
Quest employs about 130 people in Sandpoint, a number that will grow as company production ramps up, according to Schaller.
Local journalism is essential.
Give directly to The Spokesman-Review's Northwest Passages community forums series -- which helps to offset the costs of several reporter and editor positions at the newspaper -- by using the easy options below. Gifts processed in this system are not tax deductible, but are predominately used to help meet the local financial requirements needed to receive national matching-grant funds.
Subscribe now to get breaking news alerts in your email inbox
Get breaking news delivered to your inbox as it happens.
---