News > Spokane
Tribe unveils casino project
Tue., July 24, 2007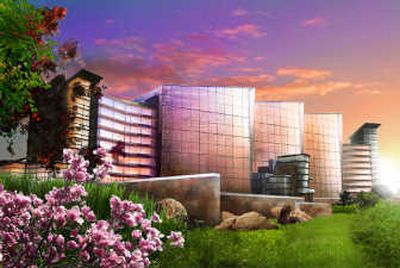 Northern Quest Casino will undergo a $275 million expansion that will add a 350-room hotel with a nine-story glass atrium featuring indoor waterfalls and a winding river.
Kent Caputo, chief operating officer for the Kalispel Tribe's economic enterprises, said it has taken a year and a half of planning to come up with designs, which include a casino that's nearly three times the size of the existing operation, a 2,300-seat event hall, a 10,000-square-foot luxury spa with a pool, and a six-story parking garage.
When the resort is completed, the Kalispels expect to hire 420 more full- and part-time employees, making it one of the region's largest employers, with 1,500 workers.
The tribe, which has 393 enrolled members and a reservation in Usk, Wash., announced the scope of the project during a ceremony Monday.
It's the second casino resort announced for the West Plains.
The Spokane Tribe of Indians' announced plans a year and a half ago to build a $130 million casino with a hotel and concert house just west of Airway Heights. The Spokane Tribe recently received state approval for a hotel with gaming operations on 145 acres it owns there.
It's unclear what effect, if any, the Northern Quest expansion will have on those plans. The Spokane Tribe could not be reached for comment Monday afternoon.
But Curt Holmes, executive director of public affairs for the Kalispels, said the project is part of an ongoing vision and isn't about competing with the Spokane Tribe.
"We're not looking at this as competition," said Holmes.
"We've had the master plan and vision of this from day one."
Representatives said the tribe will finance the project and construction will get under way immediately, with the resort expected to open in 2010.
An estimated 500 construction workers will be hired for the expansion, representatives said. Kansas City, Mo.-based JE Dunn Construction, the contractor, has 17 offices nationwide and had revenue of $2.3 billion in 2006, according to its Web site.
Meridian Construction Management, of Spokane, is managing the project.
Caputo predicted the resort will have a big economic impact on the region. A fact sheet provided by the tribe said the casino purchases $1.7 million in goods and services every month, 80 percent from local or locally affiliated businesses. Additionally, the Kalispels have donated $2.6 million to community events and organizations since 2001, the tribe announced at Monday's groundbreaking.
The Kalispels hired Hnedak Bobo Group Inc., of Memphis, Tenn., an architectural firm specializing in high-end resorts and casinos.
The firm's Gaylord Texan Resort & Convention Center in Grapevine, Texas, cost $330 million and is almost an indoor city, with a 4.5-acre atrium themed like a river walk with restaurants and shops. "We've done a lot of hotel, hospitality and gaming work all over the country," said Rick Gardner, a partner in the firm. Gardner said the company is working with 20 tribes nationwide on various projects.
At Northern Quest, guests will be able to learn more about the tribe by visiting a cultural discovery area inside the atrium, which will connect two hotel towers offering rooms with balconies overlooking the indoor landscape.
Additional retail space will be added, along with a sports bar, a restaurant and several fast-food businesses.
The project will be built on 40 acres of land that house the existing Northern Quest Casino. The casino will become a conference facility when the new casino opens, offering 2,000 slot machines, 50 gaming tables and 15 poker tables.
The Kalispels also own an additional 250 acres. However, April Pierre, communications manager for the tribe, said planning for that land will start sometime in the future.
"It's really just a matter of getting this resort under way so we can start on the land next door," she said.
During the groundbreaking, which was held in the casino's northwest parking lot, tribal leaders paid tribute to past generations of Kalispel leaders.
Caytlin Nenema, the 11-year-old granddaughter of Glen Nenema, chairman of the Kalispel Tribe, talked about how the tribal business has helped fund programs that honed her academic and leadership skills while helping pay for a set of braces that she jokingly lamented.
Local journalism is essential.
Give directly to The Spokesman-Review's Northwest Passages community forums series -- which helps to offset the costs of several reporter and editor positions at the newspaper -- by using the easy options below. Gifts processed in this system are not tax deductible, but are predominately used to help meet the local financial requirements needed to receive national matching-grant funds.
Subscribe now to get breaking news alerts in your email inbox
Get breaking news delivered to your inbox as it happens.
---