News > Business
Amazon profit triples
Wed., July 25, 2007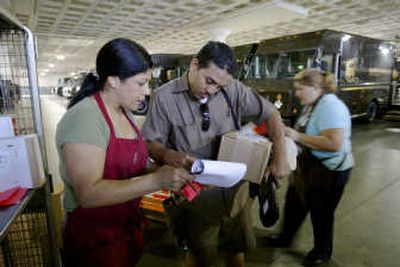 Amazon.com Inc.'s second-quarter profit more than tripled, boosted by strong sales of books, music and electronics worldwide. The Web retailer's stock soared 11.3 percent in after-hours trading.
Earnings for the three months ended June 30 climbed to $78 million, or 19 cents per share, from $22 million, or 5 cents per share during the same period last year, the company said Tuesday.
Results topped Wall Street's expectations. Analysts polled by Thomson Financial forecast a profit of 16 cents per share.
Revenue rose 35 percent to $2.88 billion from $2.14 billion in the year-ago quarter, beating analysts' expectations for $2.81 billion in sales.
"Sterling Financial Corp. of Spokane earned $27 million, or 52 cents per diluted share, during the second quarter, a 59 percent increase compared with the same period last year, the company said Monday.
Six-month earnings for the corporation, holding company for Sterling Savings and Golf Savings banks, increased to $49.9 million, or $1.02 per diluted share, up from $32.3 million, or 92 cents per diluted share, in 2006. Earnings increases stemmed from growth in "net interest income driven by margin expansion and growth in earning assets," according to a company news release.
The corporation had total deposits of $7.6 billion, a 43 percent increase over last year, and total loans receivable of $8.5 billion, a 54 percent increase.
Sterling Financial's board of directors also has approved a cash dividend of 9 cents per share of common stock, to be paid Oct. 10.
"The holding company for Spokane-based Inland Northwest Bank on Tuesday reported second-quarter earnings of $657,000, or 28 cents per diluted share, a 1.5 percent increase compared with the same period last year.
Northwest Bancorporation Inc. had six-month earnings of $1.2 million, down from $1.3 million at the same time in 2006, according to a company news release. The corporation had assets of $304.8 million, a 15.7 percent increase from last year. Loans increased by 11.8 percent and deposits by 17 percent.
Seventeen-year-old Inland Northwest Bank has 10 branches in Eastern Washington and North Idaho, and it expects to open ones in Hayden and Spirit Lake, Idaho, later this year.
"UPS Inc., the world's largest shipping carrier, reported Tuesday a 4.1 percent rise in second-quarter earnings on a modest increase in sales. The results narrowly beat Wall Street expectations.
Executives said they were mostly pleased with the results, considering a slowdown in the U.S. small package delivery market.
"For the three months ending June 30, the Atlanta-based company said it earned $1.10 billion, or $1.04 a share, compared to a profit of $1.06 billion, or 97 cents a share, for the same period a year ago.
"AT&T Inc.'s earnings jumped 61 percent in the second-quarter, driven mostly by its acquisition of BellSouth Corp. but also boosted by new wireless subscribers and better sales to large business customers.
For the quarter that ended June 30, AT&T said net income rose to $2.9 billion, or 47 cents per share, from $1.81 billion, or 46 cents per share in the prior year's quarter. Wireless subscribers rose by 1.5 million to 63.7 million, AT&T said.
"Railroad operator Burlington Northern Santa Fe Corp. said Tuesday its second-quarter earnings fell 8 percent, missing Wall Street's estimates, on flat coal volumes and rising fuel expenses.
Its shares lost more than 2 percent in morning trading.
Quarterly earnings were $433 million, or $1.20 per share, compared with $471 million, or $1.27 per share in the year-ago quarter.
Revenue was $3.84 billion, up 4 percent from $3.7 billion in the comparable period in 2006.
"PepsiCo Inc., the world's second-largest soft drink maker, said Tuesday its second-quarter profit rose 13 percent on the strength of sales in its international and Frito-Lay units, and raised its full-year earnings outlook.
But its shares waffled as the company announced declines for Gatorade sports drinks and Tropicana orange juice, contributing to a 1 percent slip in beverage volumes in North America.
Profit for the quarter ended June 16 was $1.56 billion, or 94 cents per share, up from $1.38 billion, or 81 cents per share, a year earlier.
Revenue rose 10 percent to $9.6 billion from $8.71 billion last year.
"United States Steel Corp.'s second-quarter earnings fell 25 percent amid lower sales of flat-rolled and tubular steel. Meanwhile, profit more than tripled at smaller AK Steel on higher sales and shipments.
Despite the uneven results, both companies beat Wall Street expectations and their shares rose. Shares of U.S. Steel rose 42 cents to $106.41 and AK Steel gained $1.47, or 3.8 percent, to $40.10 on Tuesday.
Local journalism is essential.
Give directly to The Spokesman-Review's Northwest Passages community forums series -- which helps to offset the costs of several reporter and editor positions at the newspaper -- by using the easy options below. Gifts processed in this system are not tax deductible, but are predominately used to help meet the local financial requirements needed to receive national matching-grant funds.
Subscribe now to get breaking news alerts in your email inbox
Get breaking news delivered to your inbox as it happens.
---