News > Spokane
Getting ready for the spotlight
Mon., July 30, 2007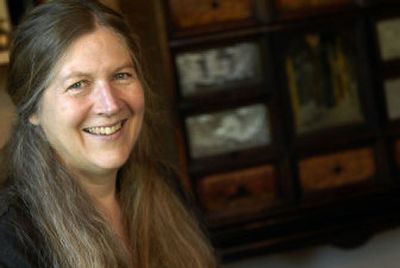 For those who have tickets to the "Antiques Roadshow" stop in Spokane this Saturday, it's like getting ready for a big party: What to wear, what to bring, and what time to arrive?
But, like any party, there is a lot of work going on behind the scenes.
While people in Spokane prepare, the busy "Roadshow" production team – 45 people in all – has been filming in St. Louis. When the crew pulls into Spokane they'll be bringing a large freight truck filled with the necessities as well as a mobile production control truck. They'll spend three days here preparing for the show, filming additional segments at local landmarks, and finally, taping the Spokane show.
Catharine Scherer is one of the 11 people selected to have a piece of furniture picked up by professional movers and delivered to the Spokane Convention Center for appraisal.
"To be honest, when I sent away for tickets, I didn't realize what a big deal this really is," Scherer says. "But I'm getting excited about it now."
Scherer is hoping to get more information about a chest that has been in her family for more than 60 years. The ornate chest was purchased by Scherer's grandmother in London, just after World War II.
"My grandfather, Admiral H. Kent Hewitt, was the head of U.S. Naval forces in Europe at the time," Scherer says. "They were living in London, and my grandmother loved antiques."
Scherer's grandmother purchased the chest at an antique shop and believed it to be Italian.
"Oh, as a child I spent hours gazing into the etched glass of the chest," she says. "I imagined that I lived in a palace."
Scherer says her grandmother knew how to spot a good piece and liked to drive a hard bargain.
"She had a very good eye," Scherer says. "My mother used to say my grandmother could walk into the Goodwill and find a Chippendale chair."
Jen Holmes, associate publicist for "Antiques Roadshow," says it is that kind of story that makes the show – the most popular series on public television – so appealing to viewers.
"People love to bring things that have meaning to them," Holmes says. "And there's always the hope that they'll be one of the lucky ones."
Scherer has been assigned a specific time to have her grandmother's antique chest appraised so she doesn't have to stand in line. So she may win a spot on TV.
But that isn't the most important thing.
"I'm so curious to hear what they know about the chest," Scherer says. "But whatever they tell me, I love it so much, it doesn't matter."
Local journalism is essential.
Give directly to The Spokesman-Review's Northwest Passages community forums series -- which helps to offset the costs of several reporter and editor positions at the newspaper -- by using the easy options below. Gifts processed in this system are not tax deductible, but are predominately used to help meet the local financial requirements needed to receive national matching-grant funds.
Subscribe now to get breaking news alerts in your email inbox
Get breaking news delivered to your inbox as it happens.
---