News > Home
Attract birds with a bath
Tue., July 31, 2007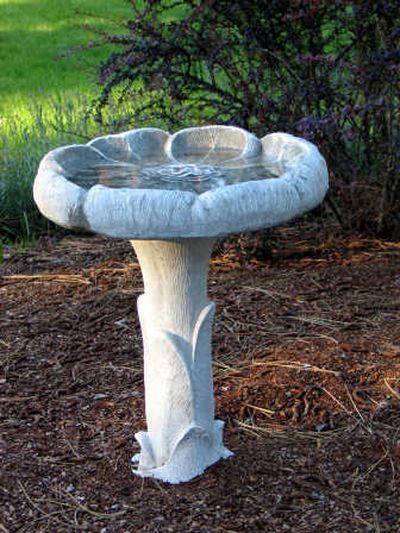 It's hot, hot, hot – time to cool down and take a splash. With temperatures in the 100s, you're not the only one who needs to stay cool. How about adding a birdbath to your back yard?
Birds are thirsty in this heat and love to flutter their feathers in water. Providing birds with water is one of the best ways to attract them. Additional attractions to consider are nesting sites, a variety of food sources, shelters for hazardous weather, and safe environments.
Water is easy to provide with a large serving bowl. Keep it only 1-2 inches deep and make sure there is a shallow slope. If you put a birdbath on a pedestal and add a dripping effect, you'll lure more birds.
When using a bowl or birdbath, always dump any old water and add fresh water daily if possible. Birdbaths come in many different shapes and sizes, so have some fun and find one that suites your personality and your garden.
Home sweet home
Providing safe nesting sites is another way to attract birds to your backyard. Review information about the preferred size of box and entrance hole for the different species you want to attract, and be sure the boxes are located at the correct height above the ground. It is helpful to face boxes to the east to provide extra warmth during the cooler months, while keeping the intense afternoon sun from potentially harming the birds in the summer months. If you already have nest boxes in your garden, be sure to clean them out in early spring and consider adding some new ones each year.
Meal makers
Providing food sources may seem challenging with the current birdseed/salmonella concerns, but if you are committed to our feathered friends, you can protect them by cleaning your feeders with a bottle-sized brush and bleach solution each time you refill your feeders. Preferably choose a nonchlorine bleach and make a 10 percent solution by mixing 1 part bleach to 10 parts water. An easy amount to work with is 1/4 cup bleach to 2 1/2 cups water for one feeder, and double that amount for multiple feeders. You can also move feeders around the garden to prevent disease.
You can provide food for the birds by planting a variety of fruit-producing shrubs and trees. Native plants have adapted most easily to climate changes and are best-suited for the area. A few to consider are shrubs such as dogwood, serviceberry, currant, viburnum, juniper, Oregon grape, mock orange, and elderberry. Trees such as hawthorn, cherry, crabapple, chokecherry, and mountain ash are also excellent. A combination of these offers birds a potential year-round food source.
Give them shelter
Providing shelter for birds is easier than you think. A simple solution is to build a brush pile in a corner of your property – away from the house due to potential fire danger. Pile up limbs that fell during a storm or branches that you've recently pruned. If you're willing, leave a few dead trees standing in your yard and keep a few bare limbs as perches.
Offer additional shelter and safety by keeping your water source close to plants, creating a garden border of dense native shrubs, and deterring cats from entering your yard.
Local journalism is essential.
Give directly to The Spokesman-Review's Northwest Passages community forums series -- which helps to offset the costs of several reporter and editor positions at the newspaper -- by using the easy options below. Gifts processed in this system are not tax deductible, but are predominately used to help meet the local financial requirements needed to receive national matching-grant funds.
Subscribe now to get breaking news alerts in your email inbox
Get breaking news delivered to your inbox as it happens.
---