News > Nation/World
Fires imperil Montana homes
Tue., July 31, 2007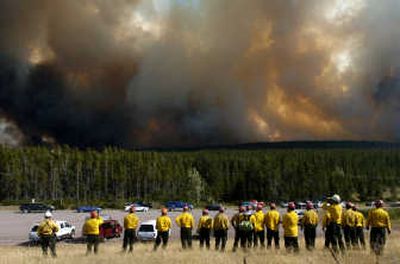 HELENA – More than 100 homes and other buildings were threatened Monday by a trio of fast-moving wildfires southeast of Missoula.
Two of the fires were detected over the weekend and one of them, a 1,000-acre blaze east of Clinton, was believed to have been human-caused.
Residents of about 40 homes were asked to leave that area Sunday night, while campers and residents of another 40 homes west of Philipsburg were asked to evacuate in advance of a 1,000-acre blaze, dubbed the Wyman 2 fire.
About 40 outbuildings also were threatened by that blaze, and crews were placing protective fire wrapping around the structures Monday, said Nick Spang, fire information officer.
"We're not letting anyone up there unless they're going up to there to collect belongings," Spang said.
In Granite County, authorities were prepared to evacuate residents of up to 100 homes threatened by a 300-plus-acre wildfire southeast of Missoula.
The Sawmill fire was sparked by lightning July 15 but has flared up in recent days, Spang said.
North of Helena, a wildfire in the Gates of the Mountains Wilderness ballooned to nearly 15,000 acres Monday under "extreme" conditions, said Bonney McNabb, fire information officer.
The Meriwether fire jumped Elk Horn Creek on Monday, prompting the Lewis and Clark County Sheriff's Office to issue a pre-evacuation notice for the area from Log Gulch to Prairie Dog town.
The state's largest fire, the Ahorn blaze west of Augusta, doubled to 30,000 acres overnight and grew another 15,000 acres Monday, for a total of 45,000 acres – or 70 square miles, officials said. Some residents in the Gibson Reservoir area, on the northeast corner of the fire, evacuated on their own, said fire information officer Jean Withnell.
South of Glacier National Park, the Skyland fire doubled to 10,000 acres Monday, and burned to an area just southeast of Dog Gun Lake and within a mile of the Blackfeet Indian Reservation.
Festival still on
Organizers of the area's famed Testicle Festival said the five-day bacchanalia was still a go.
The 25th annual bash was slated to start Wednesday at the Rock Creek Lodge in Clinton along Interstate 90. It typically draws thousands of people from around the world eager to consume deep-fried bull testicles, also known as "Rocky Mountain oysters."
While smoke was rising from a mountain across the highway Monday afternoon, co-owner Rodney Lincoln said he had been told the fires were moving away from the lodge and would not affect the festival.
"There's some smoke, but in terms of flames, compared to last night it's pretty mellow in my estimation," Lincoln said. "A little smoke isn't going to hurt us. It's not going to deter people from coming."
Local journalism is essential.
Give directly to The Spokesman-Review's Northwest Passages community forums series -- which helps to offset the costs of several reporter and editor positions at the newspaper -- by using the easy options below. Gifts processed in this system are not tax deductible, but are predominately used to help meet the local financial requirements needed to receive national matching-grant funds.
Subscribe now to get breaking news alerts in your email inbox
Get breaking news delivered to your inbox as it happens.
---