Sports
Leukemia claims Walsh
Tue., July 31, 2007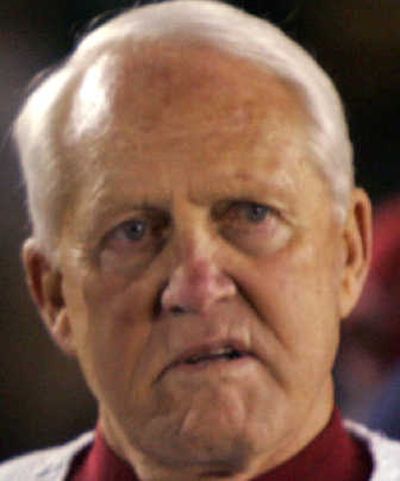 SAN FRANCISCO – Bill Walsh, the groundbreaking football coach who won three Super Bowls and perfected the ingenious schemes that became known as the West Coast offense during a Hall of Fame career with the San Francisco 49ers, has died. He was 75.
Walsh died at his Bay Area home early Monday following a long battle with leukemia, according to Stanford University, where he served as coach and athletic director.
Walsh didn't become an NFL head coach until 47, and he spent just 10 seasons on the San Francisco sideline. But he left an indelible mark on the United States' most popular sport, building the once-woebegone 49ers into the most successful team of the 1980s with his innovative offensive strategies and teaching techniques.
The soft-spoken native Californian also produced a legion of coaching disciples that's still growing today. Many of his former assistants went on to lead their own teams, handing down Walsh's methods and schemes to dozens more coaches in a tree with innumerable branches.
Walsh went 102-63-1 with the 49ers, winning 10 of his 14 postseason games along with six division titles. He was named the NFL's coach of the year in 1981 and 1984.
Few men did more to shape the look of football into the 21st century. His cerebral nature and often-brilliant stratagems earned him the nickname "The Genius" well before his election to the Pro Football Hall of Fame in 1993.
Walsh twice served as the 49ers' general manager, and George Seifert led San Francisco to two more Super Bowl titles after Walsh left the sideline. Walsh also coached Stanford during two terms over five seasons.
Even a short list of Walsh's adherents is stunning. Seifert, Mike Holmgren, Dennis Green, Sam Wyche, Ray Rhodes and Bruce Coslet all became NFL head coaches after serving on Walsh's San Francisco staffs, and Tony Dungy played for him. Most of his former assistants passed on Walsh's structures and strategies to a new generation of coaches, including Mike Shanahan, Jon Gruden, Brian Billick, Andy Reid, Pete Carroll, Gary Kubiak, Steve Mariucci and Jeff Fisher.
Walsh created the Minority Coaching Fellowship program in 1987, helping minority coaches to get a foothold in a previously lily-white profession. Marvin Lewis and Tyrone Willingham are among the coaches who went through the program, later adopted as a league-wide initiative.
He also helped to establish the World League of American Football – what was NFL Europe – in 1994, taking the sport around the globe as a development ground for the NFL.
Walsh was diagnosed with leukemia in 2004 and underwent months of treatment and blood transfusions. He publicly disclosed his illness in November 2006, but appeared at a tribute for retired receiver Jerry Rice two weeks later.
While Walsh recuperated from a round of chemotherapy in late 2006, he received visits from former players and assistant coaches, as well as California Gov. Arnold Schwarzenegger and Sen. Dianne Feinstein.
Walsh is widely credited with inventing or popularizing many of the modern basics of coaching, from the laminated sheets of plays held by coaches on almost every sideline, to the practice of scripting the first 15 offensive plays of a game.
He is survived by his wife, Geri, and two children, Craig and Elizabeth.
Local journalism is essential.
Give directly to The Spokesman-Review's Northwest Passages community forums series -- which helps to offset the costs of several reporter and editor positions at the newspaper -- by using the easy options below. Gifts processed in this system are not tax deductible, but are predominately used to help meet the local financial requirements needed to receive national matching-grant funds.
Subscribe to the sports newsletter
Get the day's top sports headlines and breaking news delivered to your inbox by subscribing here.
---