News > Nation/World
Television host Snyder dies
Tue., July 31, 2007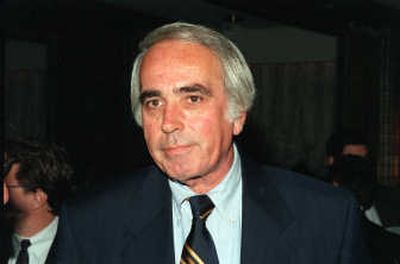 Tom Snyder, the brash, irreverent and provocative late-night TV talk-show host whose bellowing laugh and ever-present cigarette made him a pop-culture icon ripe for parody in the 1970s, has died. He was 71.
Snyder died Sunday in San Francisco of complications associated with leukemia, Mike Horowicz, his longtime producer and friend, said Monday.
A top-rated evening news anchor in Los Angeles in the early '70s, Snyder made the transition to late-night TV in 1973 as the host of "The Tomorrow Show," which ran in the time slot after "The Tonight Show Starring Johnny Carson" until 1982.
As NBC's late-late-night answer to old movies for insomniacs – it originally aired from 1 to 2 a.m. and later from 12:30 to 2 a.m. – "The Tomorrow Show" featured discussion topics such as group marriages, suicide, male prostitution, rock-music groupies and film censorship.
Snyder also talked with newsmakers such as Teamsters union president Jimmy Hoffa, former Vice President Spiro Agnew, Watergate special prosecutor Leon Jaworski and – from prison in California – Charles Manson. Celebrities such as John Lennon, Marlon Brando and Orson Welles also sat for chats with Snyder.
"Fire up a colortini, sit back, relax, and watch the pictures, now, as they fly through the air," Snyder would tell his viewers.
"I told (network executives) in the beginning, `Don't put me in a monkey suit. Don't put me in front of a band. I'm a newsman. I don't tell jokes. I just talk about issues,' " Snyder recalled in a 1979 interview with Newsweek magazine.
"It's sort of a little hip shoot," Snyder said of his show. "Something's got to happen or they'll turn off the box at this hour. What will make the program will be when people begin to say, 'Did you hear what that SOB said at 1:20 this morning?' "
As for criticism of his sometimes arrogant, intimidating and belligerent on-camera demeanor, Snyder told the New York Times in 1977:
"I'm not just there as a piece of wood, for people to talk to. I'm a human being. I have opinions and biases and beliefs and standards, and I have to inject them into that program.
"Otherwise we might as well have an empty chair and give the guests a list of written questions and let them answer them."
Snyder is survived by a daughter, Anne Mari Snyder, and two grandchildren.
Local journalism is essential.
Give directly to The Spokesman-Review's Northwest Passages community forums series -- which helps to offset the costs of several reporter and editor positions at the newspaper -- by using the easy options below. Gifts processed in this system are not tax deductible, but are predominately used to help meet the local financial requirements needed to receive national matching-grant funds.
Subscribe now to get breaking news alerts in your email inbox
Get breaking news delivered to your inbox as it happens.
---