News > Spokane
EWU's shuffle
Mon., June 4, 2007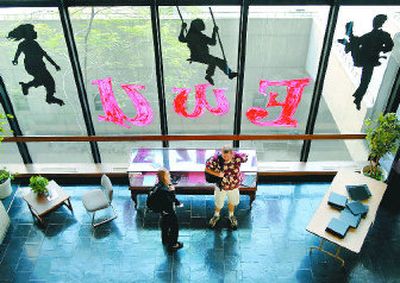 Eastern Washington University is closing in on the sale of its downtown Spokane center, and its long-awaited move to the Riverpoint campus is set to happen this summer.
But it'll be at least a few years until EWU has its own building on that campus. In the interim, students and professors will cobble together space from different buildings at Riverpoint and elsewhere in the city. One program – journalism – is being moved back to Cheney.
EWU is in the process of reviewing a bid to buy its current downtown center at 701 W. First Ave., which the school says needs extensive repairs. Provost Ron Dalla would not identify the bidder, but said the offer was roughly the asking price of $4 million.
The addition of Eastern's Spokane students will almost double the number of students next fall at Riverpoint, the shared campus between EWU and Washington State University that business leaders have long envisioned as the centerpiece of a university district in Spokane, with academic programs, housing and businesses.
Eastern will bring about 1,000 students to campus, where about 1,500 WSU students already take classes.
"All in all, I think it will really help move that campus toward the vision we all have," said Dalla. "It's just a matter now of cinching up our belts and putting up with the temporary quarters while we build our building."
Some of the belt-cinching will be considerable. Faculty offices will be in one building and classrooms in another during the interim at Riverpoint, and students have complained their programs will lose a sense of cohesion.
EWU's master's in social work program will likely be housed at Spokane Falls Community College. And the school's journalism program, after decades in Spokane, is being moved back to Cheney, to the displeasure of faculty and students.
"It's a poorly thought-out, ill-advised decision by the university," said Steve Blewett, the retiring director of the journalism program.
He said journalism students benefit greatly from longtime relationships in Spokane between the faculty, media, government organizations and others.
Blewett said EWU administrators didn't seek advice or input from the faculty of the Spokane programs before deciding to return their program to Cheney.
"In the three to four years while this was being kicked around, we've never been involved in the discussions," he said. "You can talk to creative writing (faculty), neither were they. You can talk to social work, neither were they."
In Dalla's written recommendation about the restructuring of the Spokane programs, he wrote that he'd reviewed "independent submissions" from every program in Spokane before making his recommendations to President Rodolfo Arevalo.
He acknowledged Friday that representatives of the programs could have been brought into discussions earlier. He said some journalism courses will remain in Spokane, with faculty offices and other courses in Cheney.
"We should have had more communication from the very beginning, and that didn't happen," he said. "We've been trying to deal with that since then."
EWU is finalizing its Spokane plan. Its eventual building in Spokane will include the creative writing, social work, communications, counseling and interdisciplinary programs, as well as some additional "signature" programs in the areas of water, health care and urban community.
Once that lineup is final, the school will begin designing a new building, using the proceeds from the sale of its current downtown building. The construction budget could range from $45 million to $60 million, and EWU will need to ask the state Legislature to fund the building.
EWU doesn't yet have an exact location at Riverpoint for the new facility.
Classes at the downtown center will continue over the summer quarter, and operations will be moved to the Riverpoint campus before the fall quarter.
Local journalism is essential.
Give directly to The Spokesman-Review's Northwest Passages community forums series -- which helps to offset the costs of several reporter and editor positions at the newspaper -- by using the easy options below. Gifts processed in this system are not tax deductible, but are predominately used to help meet the local financial requirements needed to receive national matching-grant funds.
Subscribe now to get breaking news alerts in your email inbox
Get breaking news delivered to your inbox as it happens.
---