WWII vets educate students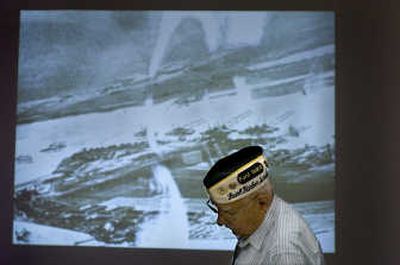 When Ken Wortley read a story recently in The Spokesman-Review (WWII Vets Remember, May 24) to his seventh-grade social studies class at Chase Middle School, they had to pause to look up a word. Pearl Harbor survivor Charlie Boyer was quoted as saying people had gotten "blasé" about Memorial Day.
Wortley's students had a different reaction. Grant VanHalderen suggested the students invite the veterans to visit their classroom. With Wortley's permission, student Max Katzarksi called the newspaper in an attempt to contact the veterans.
On June 8, six Pearl Harbor survivors visited the school. The library was packed with seventh-graders as VanHalderen welcomed their guests. "We felt bad that no one seems to care about your stories as survivors," he said. "We are truly honored to have you here."
The squirming crowd grew still as Ray Daves, president of the Lilac City Chapter of Pearl Harbor Survivors, introduced Betty Schott. Betty and her husband, Warren, a Navy sailor, were both on Ford Island when the first bombs fell.
"Slamming a door for days after the attack would make you jump," she said, recalling the terrible noise and confusion they experienced.
Many of the students had recently watched scenes from the movie "Pearl Harbor" in class. In rapt silence, they listened to the eyewitness accounts. "Time seemed like forever," said Charlie Boyer. "I'd say a few of us were pretty scared." He told of a fellow soldier on guard duty who shot at a fence post. "He swore it moved," Boyer recalled with a grin.
Veteran Bud Colburn said he'd just gotten off duty and was wearing his dress whites. "I'd figured on going to church that morning," he said. "But I didn't quite make it." Instead he spent the day driving the wounded to the hospital. "I took the guys they were bringing out of the water."
Ray Daves told the students that the veterans don't talk about their experiences much, even among themselves. "The information you heard today, you've never heard before. It will be lost when we pass on." He paused. His voice shook. "But you've heard it. We hope you'll value the freedoms we have in this country, freedoms that wouldn't be possible if not for veterans – not just us, but veterans of all wars."
And then they took questions from the group. One student asked, "If you had the choice to leave and be safe, what would you have done?"
Boyer replied, "If I'd had the choice I would stay and fight for my country."
Another student asked, "When you were caught by surprise, what was going through your head?"
Daves answered for the veterans. "I thought, 'The world's gone crazy! What have we done to provoke these people into this carnage?' "
After the question-and-answer time, the subdued students thanked their guests and served them cookies and lemonade. Grant VanHalderen said, "I'm grateful for the freedom these people provided for us." His classmate Jaeger Dretke said, "They've got guts. They did what they had to do." He shook his head; "It makes the war seem totally different, when you hear from people who were actually there."
Which is why Wortley encouraged his students to invite the group to their school in the first place. With only three paragraphs devoted to the attack on Pearl Harbor in their Washington State history text, he said, "It's good for the kids to see living history."
"What makes a hero is someone who helps someone else before themselves," said Grant VanHalderen. "These guys are definitely heroes."
Then he joined the throng of students who surrounded the veterans, notebooks in their hands, waiting patiently to get the autographs of their very own hometown heroes.
---