Sports
Trail Blazers welcome Oden
Sat., June 30, 2007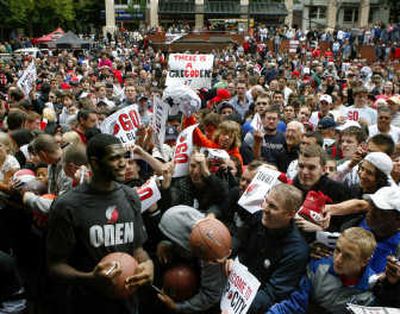 New Trail Blazers center Greg Oden quickly got a feel for life in Portland – it rained.
The 7-foot center out of Ohio State, wearing a black T-shirt emblazoned with his last name, was introduced Friday to Blazers fans at a lunchtime rally, some 16 hours after the team took him with the No. 1 pick in the NBA draft.
A few thousand fans chanted Oden's name when he arrived at downtown's Pioneer Courthouse Square. Oden acknowledged the cheers by bowing to fans.
"This is crazier than New York," said Oden, accompanied to Portland by his parents, brother and girlfriend.
Durant: face of the Sonics
Kevin Durant was welcomed as the public face and cornerstone of the Seattle SuperSonics.
Durant was accompanied by Jeff Green, whose availability was the catalyst behind a draft night trade that shipped seven-time All-Star Ray Allen from Seattle to Boston, and landed the Sonics two of the top five picks.
"These guys represent so much of what we want to establish as Sonics' basketball – great human beings, great work ethic, love for the game, play for the team," Seattle general manager Sam Presti said. "To me, that's what it's about."
Around the league
Dallas owner Mark Cuban had hip replacement surgery. … Charlotte waived veteran Brevin Knight. … The Los Angeles Clippers waived guard Daniel Ewing, and declined to tender a qualifying offer to forward James Singleton, making him an unrestricted free agent on Sunday. … Utah made qualifying offers to guards Dee Brown and C.J. Miles, making both players restricted free agents.
Local journalism is essential.
Give directly to The Spokesman-Review's Northwest Passages community forums series -- which helps to offset the costs of several reporter and editor positions at the newspaper -- by using the easy options below. Gifts processed in this system are not tax deductible, but are predominately used to help meet the local financial requirements needed to receive national matching-grant funds.
Subscribe to the sports newsletter
Get the day's top sports headlines and breaking news delivered to your inbox by subscribing here.
---