Sports
Chiefs not intimidated by Silvertips
Fri., March 23, 2007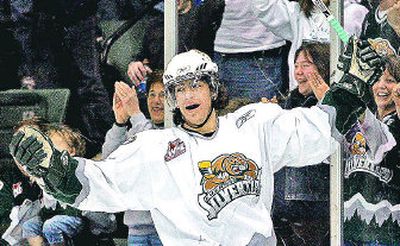 The Spokane Chiefs spoke all season about not fearing the Everett Silvertips, the Western Hockey League's top team, in the opening round of the playoffs. They're not changing their tune.
After all, each team won four games in the eight-game regular-season games series – including three of four at home. If that's a fair barometer, Spokane should be competitive in the U.S. Division teams' best-of-7 series which opens with games at Everett tonight and Saturday.
"I anticipate it being a long series, a low-scoring series and a physical series," Chiefs coach Bill Peters said. "It's going to be the type of series where every shift matters. … We're prepared to go out and play 21-plus periods, and I'm sure they are too, so it's going to be a really exciting series."
The Chiefs have nearly all of their key players back from injury and, during the interim, have given valuable ice time to younger players. Spokane is making its first playoff appearance in three seasons and is an underdog pick.
"I think a lot of people underestimate what we have to offer, but … anyone who thinks Everett is going to get off easy here – we're ready to play them and we're thrilled to be playing them in the first round," forward David Rutherford said.
Everett (54-15-1-2, 111 points) used a disciplined style of play to roll to the best record in the WHL this season and is the top-ranked team in the Canadian Hockey League. The Silvertips boast the league's leading scorer in Zach Hamill (93 points) and also have sniper Peter Mueller (78 points, 51 games), a U.S. national junior team member.
Hamill and Mueller are two players Spokane will watch closely.
"They're key guys, that's for sure," said defenseman Evan Haw. "That means me and 'Zimmy' (Sean Zimmerman) are going to have to play a lot against them, staying physical against them, and just not trying to do too much against them. Just keeping it simple when their line's out and focus on playing defense."
The defensive effort doesn't stop on the back end. The Spokane forwards will have to be aggressive against Everett with the forecheck and be responsible defensively.
Captain Adam Hobson is one of those up front who will be important to the team accomplishing its objectives against the Tips' forwards. He says he's ready.
"It's going to be my forte, coming down the stretch," said Hobson. "I'm going to take pride in making sure it's defense first and that's what I'm focused on right now."
Mueller is a National Hockey League first-round pick, but Spokane has one in Michael Grabner. The series may be decided by whose stars play best, but that's not the end of it.
"I think the most important part is going to be discipline," said Hobson, echoing the analysis of several teammates and his coach. "They have really good specialty teams – power play, penalty kill – so we're going to have to be sharp on our power play and we can't take any bad penalties in the game, especially in crucial spots."
The Chiefs (36-28-4-4, 80 points) have done that down the stretch.
They've had an inconsistent season, but they showed they can play with the best teams in the league.
Spokane is led in scoring by Derek Ryan (59 points), David Rutherford (58 points) and Grabner (55 points, 51 games). The defense will be bolstered by the addition of No. 1 overall pick Jared Cowen as a call-up, but needs to play cleanly in front of the net.
Rookie goaltender Dustin Tokarski will likely get the start for Spokane, as veteran starter Kevin Armstrong has the flu and has been unable to practice this week. Both Spokane goalies finished with 2.80 goals-against averages.
Tokarski won the Canadian national championship last season with his Triple-A midget team and has played in 30 games this season, so he is well-tested for a rookie.
"I should be ready to go," said Tokarski, who posted a shootout win at Everett in his first WHL start. "If it arises, I'm ready. I just got to go in there thinking to support 'Army,' but if I get a call or get a chance I have to be ready to get in there and get 'er done."
Everett goaltenders Leland Irving (1.86 GAA) and David Reekie (1.97) finished as the league's second- and third-best goalies in goals-against average.
Irving is Canada's backup junior national team goalie, but Spokane's shooters say they aren't intimidated.
Local journalism is essential.
Give directly to The Spokesman-Review's Northwest Passages community forums series -- which helps to offset the costs of several reporter and editor positions at the newspaper -- by using the easy options below. Gifts processed in this system are not tax deductible, but are predominately used to help meet the local financial requirements needed to receive national matching-grant funds.
Subscribe to the sports newsletter
Get the day's top sports headlines and breaking news delivered to your inbox by subscribing here.
---