News > Spokane
Treppiedi zealous, effective
Sun., March 25, 2007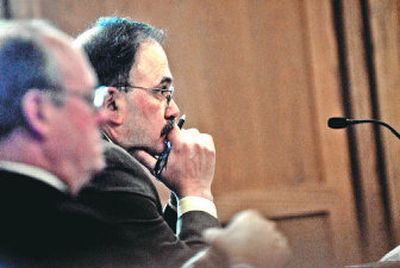 Rocky Treppiedi, the Brooklyn-born lawyer who has defended the Spokane Police Department since the 1980s, has both detractors and defenders.
His allies say he's saved taxpayers millions of dollars with his aggressive defense of claims against police, including a strategy of countersuing citizens who file lawsuits.
He once gave Spokane resident Bill Tann 25 cents out of his own pocket for a pothole-related $1,500 injury claim, and he has a track record of winning many of the police cases that go to court.
"Rocky is an excellent attorney with a great record defending the Police Department," said former City Attorney Mike Connelly, who rehired Treppiedi in 2003 after he briefly left City Hall to work at a law firm.
Treppiedi is a "worthy adversary," said Bill Maxey, an attorney who has faced Treppiedi in court several times – including a 1994 case in which a Spokane County jury took 15 minutes to clear two officers of negligence in the death of a bystander while pursuing an armed fugitive.
"I recall that case with distress. He's a good lawyer, but we see things differently," Maxey said.
His detractors, however, say Treppiedi is hostile to open government and blind to police misconduct.
"He's aggressive and single-minded about his job. It generates an atmosphere that encourages police misconduct," said Richard Wall, a former Spokane County deputy prosecutor.
Wall's client, Mackenzie Bristow, recently received a $125,000 settlement to resolve her civil rights lawsuit against the city.
Treppiedi also has clashed repeatedly with the media over the state's Public Records Act, often arguing for the city or for Spokane Public Schools – where he is a board member – to withhold documents from the public.
Treppiedi would not agree to repeated requests for a face-to-face interview with the newspaper, which he once referred to as "the local fish-wrap" in an e-mail to Jim West during the former mayor's recall fight. He did respond to written questions.
The 54-year-old Treppiedi's role in the city attorney's office was thrust into the limelight last year during a series of high-profile police controversies, including destruction of evidence in a firehouse sex tryst and the death of Otto Zehm after a police beating.
After those incidents, a Spokane attorney wrote an indignant e-mail, telling Spokane Mayor Dennis Hession he was being ill-served by city staff as they responded to the controversies.
Tom Keefe, who had served as legal counsel to former Seattle Mayor Charles Royer and is a political supporter of Hession, advised the mayor to immediately remove Acting Police Chief Jim Nicks and the police department's chief legal adviser, Treppiedi.
Treppiedi should be reassigned to "an area of responsibility that does not include matters involving the Spokane Police Department. If Mr. Treppiedi resists such a reassignment, he should be fired," Keefe wrote Hession on July 17, 2006.
At the time of Keefe's e-mail, obtained by The Spokesman-Review in a records request, a video of Zehm's fatal encounter with police had just been released. It showed that an earlier police description was misleading: Zehm had not "lunged" threateningly at officers as Nicks had claimed two months earlier in a press conference that Treppiedi helped arrange.
Although Hession reached outside the Police Department late last year to appoint Anne Kirkpatrick as chief, Treppiedi still defends the city against citizens' legal claims – including a December 2006 civil rights lawsuit filed on behalf of the unnamed teenager who claims in court documents she was raped during the firehouse encounter last year.
Treppiedi, whose salary this year is $85,295, has a law degree from Gonzaga and a bachelor's degree from John Jay College of Criminal Justice in New York City. He worked in the 1980s for City Attorney Jim Sloane, where he advised the Police Department and defended the city in its most high-profile civil rights case.
After years of litigation and acrimony, the city settled in 1997 with the Spokane Gypsy family of Grover and Jimmy Marks for $1.43 million to resolve a lawsuit over an illegal 1986 police search of their homes.
Spokane Superior Court Judge John Schultheis ruled the searches were unconstitutional because police entered the homes and seized jewelry and $1.6 million in cash before a search warrant was signed by a judge.
The police "greatly mismanaged the entire search and seizure" of the Marks homes on South Thor, Schultheis ruled as he dismissed the felony charges.
The Washington Supreme Court later ordered the charges reinstated but said the evidence couldn't be used at trial because of the illegal searches. When the city appealed, the 9th U.S. Circuit Court of Appeals ruled the searches were too broad because they included people who weren't targets of the investigation.
After the Gypsy families filed a civil rights suit against the city in 1989, Treppiedi countersued under the federal Racketeering Influence and Corrupt Organization Act (RICO), seeking to have homes, cars and cash seized as ill-gotten gains. Spokane County also joined the RICO action.
In 1991, U.S. District Court Judge Robert McNichols tossed out the RICO charges.
The RICO counterclaims "were more vindictive in nature than anything else," said Terry Thomson, a Seattle lawyer who helped defend the Marks family.
"It is significant that Rocky was the City's counsel in the prosecution of the questionable RICO counterclaim, and through the civil rights litigation. Rocky was so closely and emotionally wrapped up in defending the Police Department and its officers, and challenging the Marks family members, that at times he appeared to have lost any objectivity," Thomson said in an e-mailed response.
Treppiedi said the Marks family sued him and his wife, Marianne, for malicious prosecution, lost, and had to pay the city about $50,000 for the costs of defending the suit.
Sheri Barnard, Spokane's former mayor who took office in 1989 in the midst of the contentious case, recalls Treppiedi's hostility toward the Marks family.
"I remember sitting in executive sessions and being amazed at the animosity. I was never very happy with Treppiedi's work; I felt he was biased," Barnard said.
Joel Crosby, a Spokane real estate agent who was on City Council at the time, opposed a settlement with the family.
"Rocky handled the case, and I thought he did a good job. I wish we hadn't had to pay them anything," Crosby said. But Schultheis' ruling that the searches were illegal undercut the city's position, Crosby added.
During the long case, Treppiedi also filed complaints against the legal team representing the Marks family with the Washington State Bar Association, recalled Pat Stiley, one of those lawyers.
"Rocky became the only lawyer in 38 years to report me to the Bar for ethical violations. I believe the Bar response was something equivalent to: 'Now, now, boys….,' " Stiley said in an e-mail from Belize, where he now spends much of his time.
Treppiedi said bar association rules prohibit him from discussing complaints.
Treppiedi has no disciplinary record with the bar association, which licenses and monitors lawyers, said the group's Judith Berrett.
In 1994 during the Gypsy litigation, Treppiedi received national notoriety for authorizing a police search at the downtown Sheraton Hotel room of a CBS news crew in town to cover a feud between two Marks family factions. Treppiedi and nine police officers showed up at 4:20 a.m. with a search warrant.
Treppiedi neglected to notify his boss, city attorney Sloane, before the search. Sloane recently declined comment on his former deputy.
"I was very close to these issues, and I just don't think it's appropriate," he said.
At the time, Treppiedi said he thought the CBS crew had "crucial evidence of a crime" and felt he didn't have time to get a subpoena, the usual way to seek evidence from the media. The network had taken video of a Gypsy family fight.
In an e-mail to the newspaper last week, Treppiedi said he'd "do the same thing today if any news organization held itself above the law as CBS did while the safety of citizens was in jeopardy."
The search deeply angered network executives, who said it was the first time in the U.S. that police had seized one of its news tapes. "It's a chilling effect on all journalists," CBS Vice President Joseph Peyronnin said at the time.
CBS demanded – and received – an apology from then-Mayor Jack Geraghty and the City Council.
Three years later, the Marks family received $1.43 million to settle their claim. "The apology is the check, and this is what we expected," a smiling Jimmy Marks said the day the settlement was announced, while lighting a cigar with a fake $1 million bill.
The settlement was "an opportunity for the city to get out from under the risks that it faces," Treppiedi said at the time.
Grover Marks, a patriarch of the clan, was buried on May 23, 1997, a month and a half before the settlement. En route to the cemetery, his son Jimmy arranged to have the Gypsy leader's black hearse stop by City Hall, where he opened the padded back door to coax out his father's spirit.
The "Gypsy curse" placed on the city that day still stands, Marks said in a recent interview. "I just reissued the curse recently. It's because of Rocco. He's an evil person," Marks said.
Treppiedi also tangled with Sandra Brewer, Spokane's first female cop, who was hired in 1979 but filed a claim against the city in 1985 for on-the-job sexual harassment – winning a $195,000 settlement.
In 1991, after Brewer spoke to a Spokane Community College law enforcement class on the impact of sexual harassment, Treppiedi delivered a letter from then-Police Chief Terry Mangan to course instructor Bruce Randall, saying Brewer was violating her confidential 1985 settlement agreement.
Randall, head of the law enforcement program, called the letter "threatening" and an effort to chill Brewer's First Amendment rights. Treppiedi said he was merely enforcing the 1985 agreement.
Brewer said police planted the wife of a detective in the class to secretly record her speech. The tape was delivered to Mangan.
Brewer was so intimidated by the letter she suffered anxiety attacks for five years, she said in a recent interview. She was never invited back to SCC. She is now part owner of a Spokane Valley detective agency.
"It was the one and only time I ever spoke out. To me, that was way over the top," she said.
Treppiedi ran against Christie Querna in 1995 for the Spokane School Board and lost after arguing in the campaign that his North Side residency would bring diversity to a board dominated by the South Hill. He was appointed the next year when John Warn resigned and has been re-elected since. He said it's given him great satisfaction to "do what's best for kids."
He and his wife have three grown children, including twin boys, who attended District 81 schools.
In August 2001, Treppiedi was fined $100 by the state Public Disclosure Commission for failing to file his personal financial statement for school board members. That same year, he defended the school district's decision to withhold information about how Nathan Walters, a boy with a known peanut allergy, was given a school-prepared sack lunch containing several peanut products. The third-grader died after eating half of a peanut butter cookie.
"We as citizens have a right to know what's going on, but we don't have to know everything," Treppiedi said at the time, saying new procedures the school district put in place to prevent other such tragedies are more significant than the details of what happened to Nathan. (Oral arguments in a Spokesman-Review lawsuit seeking disclosure of Nathan's records were heard Tuesdayby the Washington Supreme Court.)
Treppiedi left City Hall briefly in 2000 to work "of counsel" at a private law firm, Perkins Coie.
An April 2001 contract signed by Jack Lynch, then-city administrator under Mayor John Powers, allowed Treppiedi to receive a taxpayer-provided retainer of $3,000 a month for up to two years to defend the Police Department. The contract, recently obtained by the newspaper, called for Treppiedi to review all claims and lawsuits against the police and required him to be on-call 24 hours a day for major incidents and for consultation with the city's risk manager.
The "minor contract," for less than $42,000, did not go to the City Council for approval, according to the city clerk's office.
"We never saw it. I would have opposed it," said former City Councilwoman Cherie Rodgers, who said she disapproved of Treppiedi's handling of the Gypsy case. Rodgers said other assistant city attorneys could have picked up the police legal work.
Sloane, Treppiedi's former boss, approved the contract before becoming "of counsel" himself at Perkins Coie in 2001.
While at Perkins Coie, Treppiedi took on another high-profile legal case for an embattled law enforcement official. He represented Arnold Melnikoff, a crime lab forensic scientist fired in 2004 by the Washington State Patrol for "incompetent and inaccurate" testimony in a Montana rape trial.
The "Innocence Project," a New York-based advocacy group that uses DNA evidence to exonerate people with wrongful convictions, urged then-Attorney General Chris Gregoire in 2002 to investigate Melnikoff, who headed Montana's state crime lab from 1979 to 1988. The investigation found a 30 percent error rate in his work.
Treppiedi accused the WSP and the lab system of "bowing to the pressure of the Innocence Project." He appealed Melnikoff's firing in state court, but lost. The case is now on appeal, and he continues to represent Melnikoff on his own time, Treppiedi said.
As a result of the Innocence Project's work, two men serving rape sentences in Montana were cleared. Treppiedi returned to City Hall in 2003 after Perkins Coie terminated its 20-year relationship with the city as outside bond counsel as a result of the River Park Square litigation and closed its Spokane office.Treppiedi was selected from a number of applicants for an open attorney position advising the risk management and fire departments and was "clearly the most qualified applicant," said Connelly, who is now the attorney for the city of Spokane Valley.
Treppiedi applied for the city job after losing out on a Spokane Superior Court judgeship for which he was a finalist.
The 366 lawyers who participated in a December 2002 Spokane County Bar Association poll gave Treppiedi the lowest cumulative marks of all the judicial candidates, ranking him 2.52 on a scale of 1 to 4 for legal ability, integrity and temperament.
When Jim West became mayor in 2005, he chose Treppiedi as the city's risk manager, an administrative job overseeing the workmer's compensation and general liability funds. Treppiedi said he was both legal adviser to the Police Department and risk manager from late 2005 until July 2006.
Treppiedi was still in the dual role when the mentally disabled Zehm died in March 2006 after a confrontation with police in a North Side convenience store.
"Otto Zehm died … while I held both positions. There were no conflicts," Treppiedi said in an e-mail response.
On May 30, 2006, hours before Acting Police Chief Jim Nicks held a press conference to defend his officers in the Zehm incident, Treppiedi crafted an "agreed protective order" that allowed all evidence to be turned over to Zehm's family but prevented them from speaking publicly about his death.
Treppiedi stood beside Nicks at the press conference when the chief said Zehm "lunged" at Karl Thompson, the first responding officer, with a 2-liter bottle of soda. Nicks also said Zehm was kept on his side most of the time. Those comments appeared to be in violation of the protective agreement.
Nicks' account was later discredited when a videotape of the encounter showed Zehm retreating from the baton-wielding officer.
The video was released to the media on July 13 by Spokane County Prosecutor Steve Tucker, a day after The Spokesman-Review threatened a lawsuit to get it. At a media briefing that day, Nicks acknowledged he'd given out inaccurate information about Zehm's "lunge" while trying to defend the actions of his officers.
Despite a request by Center for Justice lawyers for a public retraction of Nicks' "false information," Treppiedi continued to say that Nicks accurately represented the video.
City Attorney Jim Craven is now handling ongoing negotiations with the Zehm family's lawyers. Treppiedi's propensity for countersuing citizens who file civil rights claims against the city has raised eyebrows among plaintiffs' lawyers. Some are reluctant to criticize him publicly because they may have to face him in court. Keefe, the lawyer who wrote to Hession, told the newspaper in an e-mail that Treppiedi's countersuits are "retaliatory."
Treppiedi's influence at City Hall is still problematic, Stiley said.
"Although I trust that age and experience have calmed Mr. Treppiedi, I still worry about the effects of extremism in the defense of bad apples, by either the police force or its legal counselors. Lord knows, it's damn near impossible for a citizen to lodge anything the police will consider a 'complaint,' " Stiley said.
"I consider my entire career with the city to be a success," Treppiedi said last week in his e-mail. "I take pride in representing the City….especially the Police Department and its officers."
Local journalism is essential.
Give directly to The Spokesman-Review's Northwest Passages community forums series -- which helps to offset the costs of several reporter and editor positions at the newspaper -- by using the easy options below. Gifts processed in this system are not tax deductible, but are predominately used to help meet the local financial requirements needed to receive national matching-grant funds.
Subscribe now to get breaking news alerts in your email inbox
Get breaking news delivered to your inbox as it happens.
---