News > Home
Solid on the slope
Tue., March 27, 2007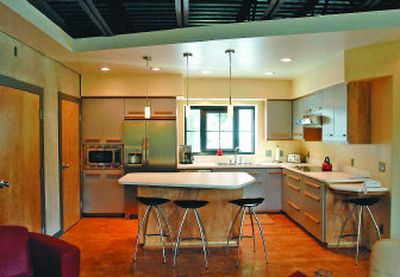 William and Diane Hellar live surrounded by more than 1 million pounds of concrete.
And that just includes the walls of their Schweitzer Mountain ski getaway, a four-unit condominium building made of steel, glass and concrete. A whole lot of concrete.
"It's really earthy; it has that sense of durability," said William, who moved into the condo this winter with his wife. "The building is going to outlive us all."
The boxy concrete structure with a flat roof is a unique sight on Sandoint's Schweitzer Mountain, where condos and cabins typically are constructed in a traditional fashion, with wooden gables and steep-pitched roofs.
The Hellars call their new building "The Evolution," because they hope the environmentally friendly design will catch on with its flat-roof style, low-maintenance materials and fast construction.
In the past, William lived at Schweitzer full-time for a dozen years. During that time, he served on the resort's architectural control committee for planned unit development, where he grew tired of seeing homes and condos sag under the extreme conditions, he said.
"I saw a huge amount of snow damage every year," William said.
The pair sold their home on the mountain several years ago, when they bought land to build a new house in Sagle. The Hellars are avid skiers who appreciate slope-side living. They also purchased property at Schweitzer, hoping to come back.
William, who retired 13 years ago after founding and running a hardware distribution company, researched different approaches for constructing homes in a ski community.
He landed on the concrete idea because of its strength, low-maintenance, energy efficiency and the quick construction process – a plus in the short building season on the mountain, he said. The building was built using a tilt-up warehouse technique with pre-cast concrete panels, he said.
According to the Hellars, the flat roof, supported by 2-foot steel trusses, helps contain snow and avoids the need for shoveling, which can be an expensive – and dangerous – venture. They say The Evolution can handle 5 feet of solid ice.
The two-story building was finished – furnishings and all – at the end of December. Since then, the couple has enjoyed the condo life, and they have put the three remaining units on the market.
"Having it on our minds for so long, it's great to be living it," Diane said.
The two-bedroom units are less than 1,000 square feet, but the Hellars said they maximized the space with a large living area that combines the kitchen, living room and dining room.
"It's a small space, but it lives big," Diane said.
Cork floors – with in-floor heating – warm the rooms. Diane decorated with a color scheme of black, cream and red with Asian touches.
A shared workout room is located on the bottom floor. A separate entrance opens into a gear storage area complete with lockers, boot and glove drying racks and a rubber floor to make snowy messes an easy clean-up.
"We designed out as many irritations of condo-life as we could," William said.
Each of the four units has a heated parking stall, large enough for a sports utility vehicle crowned with a rocket box or ski carrier, the Hellars said. The garages also sport benches to tune skis and snowboards.
"The whole design really takes skiing seriously," William said.
"It's a place to play," Diane said. "You bring your skis and clothes, and you're set."
Local journalism is essential.
Give directly to The Spokesman-Review's Northwest Passages community forums series -- which helps to offset the costs of several reporter and editor positions at the newspaper -- by using the easy options below. Gifts processed in this system are not tax deductible, but are predominately used to help meet the local financial requirements needed to receive national matching-grant funds.
Subscribe to the Coronavirus newsletter
Get the day's latest Coronavirus news delivered to your inbox by subscribing to our newsletter.
---
Subscribe and log in to the Spokesman-Review to read and comment on this story