News > Home
Enjoy city's spring glory
Tue., May 1, 2007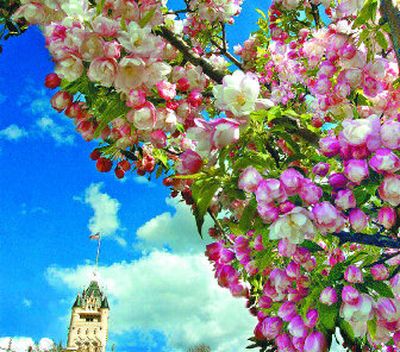 When flowering trees are in full bloom, my driving becomes hazardous. In fact, so hazardous that my husband won't take the same road if he knows I will be on it at a certain time.
You see, I drive forward but look backward, all because I don't want to lose sight of a tree in full bloom.
There are many things and many places that I try to etch into my memory. And a tree in full bloom is one of them.
I lived in a university dormitory overlooking a boulevard lined with Japanese cherries. Every April, when cherries were in full bloom, I literally floated above pink clouds. But that was in my last life
Before we moved to Spokane, after 12 years in Alaska, my exposure to flowering trees was limited to two years of spectacular apple blossoms in rural New York.
I drove around town that first spring in Spokane, with my mouth wide open and eyes the size of a half-dollar coin fixed on those passing trees. In order not to victimize innocent fellow road warriors, and after much pleading from my concerned husband, I shaped up my driving and kept my eyes on the road. But looking at flowering trees while driving is much like scratching an itch through a winter jacket; it leaves me with a much worse longing.
I wanted to get close to the trees, to see them up close and personal. So the children and I took to hunting around old neighborhood for sight of them.
I learned there was more than one kind of flowering cherry.
I learned there was such a thing as the hawthorn, and the intensely golden masses are called forsythia.
The sight of all those majestic wonders simultaneously awed and frustrated me, frustrating because I did not know anything about them.
That first spring in Spokane, when the blooming trees put out their colorful splendor, the children and I often went to the Shadle library. The excuse was to read. But my secret reason was that right in front of the library entrance there stand two incredible young cherry trees, their clustered blossoms almost as big as quarters.
I would dawdle as we walked by and fight the impulse to pick a few. I would pick one up from the ground and sniff it and tell the children to do the same.
Yes, I know. Cherry blossoms have no scent. But they are so beautiful, they should.
I know Spokane is not the only place where spring rewards with such generosity. Neither is it the only place where trees can bloom. I can only imagine what this time of year is like in other places like the south or the San Juan Islands. But other places I can only imagine. Right here is what we have.
And that is enough for me.
Every time I drive by a particularly beautiful cherry I feel the impulse to pull over and lay my hands on the trunk, to touch it, to have a blossom in my hand to sniff, and perhaps to pick a fallen one to take home and leave between the pages of a book.
If I was not concerned that people would think I am half mad, I would go and knock at the owners' door just to tell them that their tree has made a cloudy day sunny, a gray day gold and pink, a terrible day worth putting behind, and a cold day warm again.
Local journalism is essential.
Give directly to The Spokesman-Review's Northwest Passages community forums series -- which helps to offset the costs of several reporter and editor positions at the newspaper -- by using the easy options below. Gifts processed in this system are not tax deductible, but are predominately used to help meet the local financial requirements needed to receive national matching-grant funds.
Subscribe to the Coronavirus newsletter
Get the day's latest Coronavirus news delivered to your inbox by subscribing to our newsletter.
---
Subscribe and log in to the Spokesman-Review to read and comment on this story