News > Home
Lilac makes nice memorial gift
Tue., May 8, 2007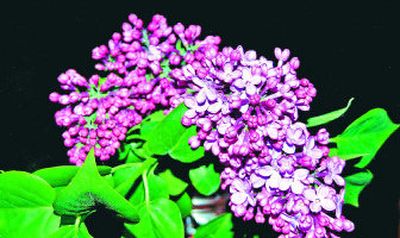 A group of us want to purchase a plant for friends living in Liberty Lake as a family memorial. We would like it to be pretty, maybe attract butterflies or hummingbirds and be deer resistant. Would lilac be appropriate? What else would you suggest?
Annie, Spokane
Memorial plants can be hard to pick. If the recipient is a gardener, sometimes its best to ask them up front what they would like. They know their garden the best and may have a good idea already what would be appropriate. If the person is not a gardener, consider getting plants that are easy to grow and don't require a lot of maintenance like pruning or deadheading. How much space do they have available, and how much shade or sun does the yard get? A lilac is perfect if the garden has some large, sunny spaces in which the plant can grow to its natural size without having to be trimmed out of pathways or other shrubs. If space is limited, then consider some of the smaller lilacs like Miss Kim.
Another idea is to donate money to a community organization that then plants in local parks or gardens. Since your friend is in Liberty Lake, talk to the city about donating to one of the projects under way in the parks there. In Spokane, the Friends of Manito Park (509-456-8038) and the Spokane Parks Foundation (509-625-6774) accept donations that go to the beautification of the parks. If a memorial garden would be right for your friend, talk to the Providence Center for Faith and Healing (509-474-3008) at Sacred Heart Medical Center about donating to the fund that supports its Meditation Garden located near the emergency-room entrance. The garden provides a place of quiet and beauty for hospital staff, patients and visitors.
Ready rhody
I have a rhododendron that sits on the north side of our house. It has buds on it and is big and bushy, but the leaves underneath the top ones are slightly yellow. What's going on?
Sue Cornell
I think your plant just hasn't really come to life for spring. Rhododendrons don't fully break dormancy until about the time they finish blooming. As they begin to grow, the leaves pick up color again. The plant will, however, shed the oldest and most shaded leaves at this time, so expect a few yellowing leaves at the bottom of the plant. Fertilize all rhododendrons now with a good rhododendron food so they can get the most out of their growth when it starts. If your plant has yellow leaves all over, it may need an application of elemental sulfur or iron sulfate to increase the acidity level in the soil. This is common on plants planted close to older concrete foundations where the lime in the concrete tends to leach into the soil, making it more alkaline than the plants care for.
Local journalism is essential.
Give directly to The Spokesman-Review's Northwest Passages community forums series -- which helps to offset the costs of several reporter and editor positions at the newspaper -- by using the easy options below. Gifts processed in this system are not tax deductible, but are predominately used to help meet the local financial requirements needed to receive national matching-grant funds.
Subscribe to the Coronavirus newsletter
Get the day's latest Coronavirus news delivered to your inbox by subscribing to our newsletter.
---
Subscribe and log in to the Spokesman-Review to read and comment on this story