News > Home
The Whitaker family
Tue., May 8, 2007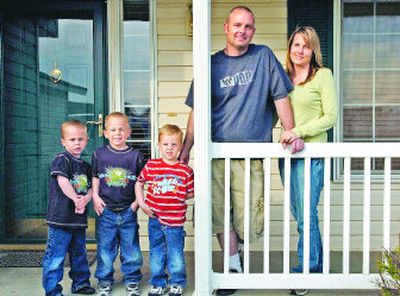 The Whitaker family's move to Spokane took 10 visits and nearly two years.
Scott Whitaker began the family's journey here from Las Vegas when he applied to be a Spokane Valley firefighter in 2005. After that, he traveled to Spokane for the written exam, the interview, the physical and psychological evaluations, and on trips with his wife to get her sense of the place.
"I made 10 trips, both for checking out the city and the job," Scott says.
"It was a long process," says his wife, Corinna.
The Whitakers and their three sons moved in February so that Scott could begin training in March. Since 2004, the Valley Fire District received more than 800 applications for 34 positions.
"It feels like an honor," Scott says of his selection.
"It's something that he's always wanted to do," Corinna says. "I'm excited for him."
Leaving Las Vegas had been a long-time goal, the couple says.
"It's gotten too big, too fast," Corinna says of the gambling mecca. "The crime was starting to go through the roof."
"It was good for me and my wife to leave there when we did," Scott says.
Why Spokane?
While the job was the primary reason for moving north, Spokane's promise of four seasons and cooler temperatures helped, Corinna says.
"In the summer in Las Vegas, it's brutal," she says. "You cannot go outside unless you are sitting by a pool."
Both say they like the area's abundant recreational options. Their sons – 5-year-old twins and a 3-year-old – have energy to burn. "We love to go hiking and camping," Corinna says. "With the boys, that's what we were looking for."
Real estate
The Whitakers are renting a North Spokane home but plan to buy when they find the right place.
"I like the Valley because it has a rural feel, and the North Side because of all the shopping," she says. "We want something with a nice, big backyard for the boys to play in, a neighborhood with young families."
Scott says he was shocked by the jump in housing prices between his first trip to Spokane two years ago and the family's move earlier this year.
"We're looking for something smaller than we're used to, a little rancher that will fit our family," he says.
The couple will devote more time to home shopping when Scott finishes his training later this month. For the past two months, he's spent most of his time to studying the 700-page training manual, which covers everything from fire behavior to customer service.
Settling in
For Scott, new companions came with the new job. "They're like my brothers," he says of his fellow firefighter trainees. "We've bonded in a big way."
Corinna says keeping her boys busy keeps her busy. She joined a mother's group that meets once a week at a park or indoor play area. She takes the boys to the library for story time. She enrolled all three in classes at the Corbin Arts Center and the twins in a two-day preschool.
But the transition has had bumps. Both Scott and Corinna say they miss friends, family and familiarity. Occasionally, Scott says the change feels overwhelming. People act and say things differently than back home.
"It's been a chore in itself just finding out how things go," he says. "It's culture shock."
He credits his wife's cheerful attitude with helping him through homesick moments, he says. "She's been behind me 100 percent. I have an awesome wife."
Local journalism is essential.
Give directly to The Spokesman-Review's Northwest Passages community forums series -- which helps to offset the costs of several reporter and editor positions at the newspaper -- by using the easy options below. Gifts processed in this system are not tax deductible, but are predominately used to help meet the local financial requirements needed to receive national matching-grant funds.
Subscribe to the Coronavirus newsletter
Get the day's latest Coronavirus news delivered to your inbox by subscribing to our newsletter.
---
Subscribe and log in to the Spokesman-Review to read and comment on this story