News > Home
Enjoying the high life
Tue., May 22, 2007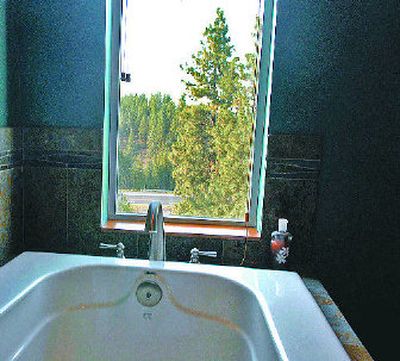 Moving from an apartment on the South Hill to a three-level home in West Hills last autumn was a big step for Keith and Kerri Mires. Especially to a home with a highly industrial motif. But they wouldn't have it any other way.
"We like that we're close to downtown, yet we really like mountain biking and the outdoors, so it's a great area," says Kerri. "We can go right across the road and ride our bikes along the river."
Keith, 32, is a commercial lender for Coastal Community Bank. He converted one of the five bedrooms into a home office until the company's new building is completed downtown. Kerri, 27, is an ophthalmic technician at Pacific Cataract and Laser Institute, and has a commute of less than three miles. They share their new home with Sadie, their four-year old cat who loves to explore all three levels.
The couple fell in love with the first house being built on the street, but another buyer beat them to the sale. So they contacted the designer and builder, Tom Thosath of Nordic Construction.
"The house next door was just being built, and we really liked what was going on there," says Kerri. "And then Tom came by with drawings for this house, and we thought it was really cool. We did change a few things, but not a lot."
Very modern with an industrial theme, the home sports such unique features as steel channel stairs to the top floor, concrete kitchen countertops, and a curved wall in the living room area. The master bath has a slate floor, countertop, and shower walls. Balconies grace the living room and master bedroom. Speakers built into the ceilings of all main rooms mean music can be heard from both decks. The stove hood is an old barrel cut in half, complete with spigot, that was galvanized. This latter feature was Thosath's notion, but the couple did incorporate many of their own ideas, with help from friends and magazines.
To achieve the warmth Kerri desired, they hired Curtis Anderson from Design Works. He suggested the contrasting brick red and sand walls, and the wood kitchen cabinets. The Mires also like a loft feel, so they opened up the stairway, and now mesh wire railing sweeps from first to second floor. A ventilation pipe is exposed in the main living area, and a wooden beam bisects the kitchen from the living room.
They did have to negotiate with each other to attain the look both could appreciate.
"We had to compromise because I'm more industrial than Kerri," says Keith. "She wanted it more like a home, which brought in a lot of the wood. So we have the concrete, and the metal, but also the wood, so it combines everything."
Mount Spokane can be seen from all front windows, and the top balcony offers a view of the Spokane River. Exterior lights illuminate the house at night. Steep concrete steps flanked by boulders lead to the front door. This July, landscaping will begin, and the project will include retaining walls, natural rock cobblestone, and native plants.
Both Keith and Kerri grew up on farms in small towns in Washington, so their parents were a little disconcerted by the contrast in their new home. But Keith's father appreciates the concrete features, and Kerri's parents admire the home's unique style.
They both agree the best thing about their new home is the view.
"If you walk out on the deck, you can see all of downtown," says Kerri.
"It's been stressful, but it's also been fun," says Keith. "We had a lot of help from our friends, from Curt, and from Tom, so it worked out well."
Local journalism is essential.
Give directly to The Spokesman-Review's Northwest Passages community forums series -- which helps to offset the costs of several reporter and editor positions at the newspaper -- by using the easy options below. Gifts processed in this system are not tax deductible, but are predominately used to help meet the local financial requirements needed to receive national matching-grant funds.
Subscribe to the Coronavirus newsletter
Get the day's latest Coronavirus news delivered to your inbox by subscribing to our newsletter.
---
Subscribe and log in to the Spokesman-Review to read and comment on this story