Dick's Hamburger's founder called 'Honest Abe'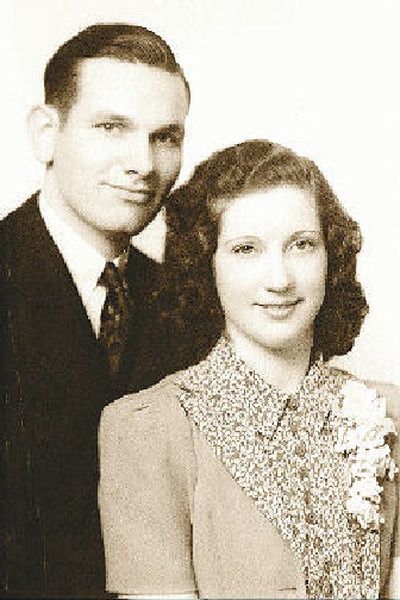 Benjamin Franklin is known as a wise man. But his adage about getting up and going to bed early making a person healthy, wealthy and wise left a few things unsaid.
Anyone who has achieved those ideals will tell you that's a good start – but it takes more than that.
Spokane's Abe Miller, who died March 22 and was co-founder of the well-known Dick's Hamburgers restaurant, could teach us something about being healthy, wealthy and wise – and he, too, had a good start.
Elmer Miller was in kindergarten when he was chosen to portray Abraham Lincoln. Unknowingly, he hitched his wagon to a star. He adopted the name for himself, and in time, he came to be known as "Honest Abe."
His father died when he was only 4, and Abe was raised by his mother, Sarah, and his stepfather, Charles Angle, in Arizona. They gave him a younger brother and a good education for the time – he earned a high-school diploma. After that, he educated himself.
When his stepfather went north to work in the Sunshine Mine in Idaho's Silver Valley, Abe Miller and a buddy rode a motorcycle to Idaho and signed on with him. Miller was a hoist operator, and it changed his life.
Soon, the fluctuating prices of precious metals captured his attention. He watched and learned, studied the stock market and worked.
And danced.
One night, Miller attended a dance in Spokane. Dorothy Becker and her sister, Elsie, saw him walk through the door. Elsie said, "Dorothy, there's a guy for you. Look how tall he is." Dorothy looked him over. "Yes, by gosh, he is," she replied. She beamed him a smile and kept smiling at him until, after three or four numbers, he finally got the hint and asked her to dance.
And dance they did. The waltz, the foxtrot, all the popular dances of the day – the two were tireless. Soon, they were attending dances three nights a week. "Oh, he was a good dancer," Dorothy recalls, love evident in her low voice.
On a warm June day in 1940, they went to the Lutheran preacher's house in Hillyard and tied the knot. The Millers were a team that wouldn't quit, enjoying 66 years together.
The Millers lived a short time in Kellogg, but Dorothy missed her big family, so Abe took a job at Kaiser Aluminum & Chemical Corp., emptying the pots of molten metal. Already, he was investing and learning that patience and perseverance were on his side.
He enlisted in the Merchant Marine during World War II and saw the possibilities in a larger world. And he discovered hamburgers – and saw a new wave coming in the restaurant business.
By 1954, he opened a hamburger stand that, true to his modest nature, he named after an employee – "Kirk's."
The couple worked together, Dorothy wrapping burgers and cutting up chickens, Abe managing the money and preaching teamwork and cheerfulness to the staff.
In 1964, the Millers opened Dick's Hamburgers, Spokane's first true fast-food restaurant, where you could "buy 'em by the bagful!"
Named after the first of the Millers' two sons, Dick's succeeded on the premise that it is better to make 2 cents each on a thousand hamburgers than a dollar each on only a few burgers.
Abe Miller never tired of studying the principles of economics. His most recent "light reading" covered the history of the philosophy of economics, a tome several inches thick.
Abe Miller's industry and patience paid off, but he never took on any of the attitudes that often come with success. He remained unpretentious and hard-working, and if he took personal pride in anything, it was simply in doing a good job.
The Millers' home of 40 years is in a family neighborhood, filled with mementos. There's an old "one-armed bandit" inside the entry and a parrot replica above the dining table. One wall is covered with photos from around the world, taken by Dorothy or perhaps Abe when she could persuade him to join her forays. Their favorite destination was a condominium on Waikiki Beach in Honolulu.
Recreation was simple – an occasional card game with friends, maybe a little rum and Coke in the evening. That was enough.
Abe Miller, a Freemason, was quietly compassionate. He and Dorothy held picnics and Christmas parties for their workers, current and past. Many associates would come to think of him as the silent "wind beneath their wings."
On the rare occasion when he had to confront a dishonest worker, Miller often would give that person a second chance. And he never spoke ill of his competitors – "that wouldn't be very nice."
Miller considered himself a caretaker rather than a master. Even at 92, he kept his yard neat and drove himself down to Dick's every day, doing the books and greeting the regulars.
Early visitors to the Millers' home would find him doing push-ups on the stairwell. Sometimes, he'd be cooking his favorite meal of small red beans spiced with onion, garlic and peppers.
"You have to take care of yourself," he said.
The Millers raised a second son in their later years, Kevin. They played with their dogs and enjoyed bowling together.
Though Abe Miller enjoyed his singular 300 bowling game, he reveled in Kevin's many trophies.
Abe Miller's last words to his son before he died in March were to "take care of your mom." Miller had taught his son about responsibility, business, the stock market and loving your family and fellow man.
Abe Miller understood that effort, shaped by intelligence and morality, is the answer to most problems. He would find a way through them, work them out.
Industry and intelligence, patience and principle, kindness and self-discipline – all are part of the remarkable, enduring wisdom of Abe Miller.
---