News > Spokane
Lawmaker urges MRSA tracking
Sat., Nov. 10, 2007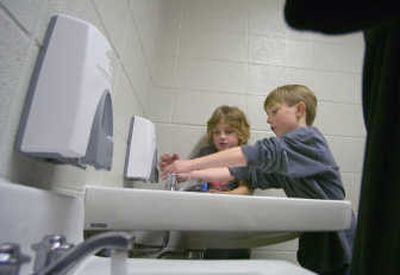 Spurred by rising worry over potentially dangerous drug-resistant staph infections, a Washington lawmaker has asked Gov. Chris Gregoire to declare MRSA a public health emergency that requires immediate monitoring.
Rep. Tom Campbell, R-Roy, sent a letter Thursday demanding that Gregoire invoke her executive powers to order the state Department of Health to track cases of methicillin-resistant Staphylococcus aureus.
The move would add the potentially fatal infections immediately to a list of about 70 notifiable conditions that include tuberculosis, pertussis and chicken pox.
"We simply must know where, who and under what circumstances these events are happening," wrote Campbell.
A spokeswoman for Gregoire said Friday that the governor hadn't seen Campbell's letter or considered his request. But Dr. Maxine Hayes, the state's health officer, said as worrisome as MRSA may be, it doesn't rise to the level of a public health emergency.
"You have to be able to show an imminent public health emergency," Hayes said. "We've had a lot of things that don't rise to the emergency equation."
Although Campbell has just drafted a new bill requiring MRSA reporting, he said growing public awareness – and worry – requires action before the state Legislature convenes in January.
"This is persistent strain of bacteria," he said. "That makes it more important than herpes. If a lethal bacteria is not something to be concerned with, I don't know what is."
Recent reports of MRSA cases in schools statewide have sparked reactions bordering on panic.
A school in Port Townsend closed its gyms after reports of the bacteria surfaced and other schools, including those in Spokane and Coeur d'Alene, have scrubbed desks, installed sanitizers and sent letters home to reassure worried parents.
MRSA has been around for decades and is treatable, Hayes said. It's not like an outbreak of pandemic influenza, which would immediately threaten thousands of lives.
Emergency rules can be adopted by the governor, the state Board of Health or the health officer, according to Washington regulations. Rules can be adopted if they're "necessary for the preservation of public health, safety or general welfare."
Such rules may remain in effect only for 120 days, Hayes added.
"We'd take it," said Campbell, who added that that would be enough time for fellow lawmakers to consider his bill. "I thought the department of public health dealt with public health."
The state health board will consider what to do about MRSA at a meeting next week, but executive director Craig McLaughlin said he wasn't prepared to advocate for immediate reporting.
"It's not clear to me what immediate benefits there would be from mandatory reporting of MRSA," he said.
Virginia Gov. Timothy M. Kaine last month proposed mandatory MRSA reporting after a student in his state died and several schools were affected by the infections.
As many as 500 people in Washington may have died because of, or with, MRSA, according to an analysis of state death certificate records. In 2005, 168 people died of MRSA or other antibiotic-resistant infections, analysis showed.
About 94,000 people developed serious MRSA infections nationwide in 2005 and nearly 19,000 died, according to new research from the federal Centers for Disease Control and Prevention.
Campbell's move to require health officials to track the germ drew praise from Jean Long, 61, of Spokane, whose husband, Jim, 67, developed a severe case of MRSA in his right hand last spring.
"I want to see it done, too," she said. "There are too many people with their heads buried in the sand who don't know how important it is."
Local journalism is essential.
Give directly to The Spokesman-Review's Northwest Passages community forums series -- which helps to offset the costs of several reporter and editor positions at the newspaper -- by using the easy options below. Gifts processed in this system are not tax deductible, but are predominately used to help meet the local financial requirements needed to receive national matching-grant funds.
Subscribe to the Coronavirus newsletter
Get the day's latest Coronavirus news delivered to your inbox by subscribing to our newsletter.
---