News > Home
Brad and Jackie Erovick
Tue., Nov. 13, 2007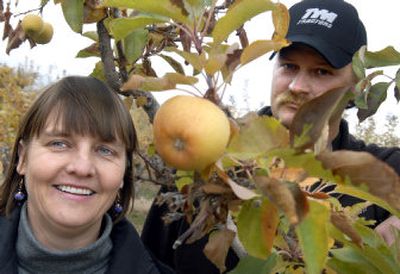 The taste of a fresh cherry changed Jackie Erovick's life.
In July 2006, while touring the Inland Northwest after a family reunion in Montana, Erovick and her family happened upon Green Bluff. They stopped at an orchard, sampled the ripe cherries, struck up a conversation with the orchardist and spent two hours walking the 10-acre property.
A few weeks later, from their Anchorage, Alaska, home, the Erovicks called the orchard's owner to make an offer on the property. She accepted.
"I had never tasted a cherry right off the tree," Erovick says. "It felt right, and it was time."
Brad Erovick says the serendipity of finding the orchard added to its charm. "We never really thought about having something like this," he says. "We just happened to run into it."
The Erovicks and their two children – 3-year-old Natalie and 8-year-old Wyatt – remained in Anchorage through June, moving into their Green Bluff home just in time for cherry season.
Why Spokane?
Jackie Erovick says she longed for years to be closer to her father, who lives in western Montana and has chronic asthma. Green Bluff reminds her of Montana's Bitterroot Mountains. "I'm overwhelmed by the pristine setting," she says, adding that she rarely sees mosquitoes – a common Alaskan pest – and doesn't miss them.
She also wanted her kids to play outside, something Alaska's bitter cold made nearly impossible. She marvels at 75 degree summer days after spending 17 years in temperatures that peaked at 50.
"My kids have been raised inside because of the extreme weather," she says. "There are basically two seasons in Alaska versus the four we have here."
Brad Erovick says he, too, is pleased with the climate.
Real estate
Jackie Erovick fell hard for the abundant supply of fresh fruit the orchard offered – peaches, pears, blackberries, apples and cherries.
"It's amazing how things can grow up here," she says, adding the only fruit trees she saw in Anchorage grew crab apples.
Their 14-year-old Green Bluff house is about half the size of their much newer Anchorage home, she says, but she likes the layout. She looks forward to getting rid of the sky-blue shag carpet when time and money allow.
Brad Erovick's parents moved from North Dakota to help care for the orchard, and the family plans to build them a modular home on the property.
"It's a better quality of life here, and we're closer to family," Jackie Erovick says.
Settling in
Jackie Erovick, a dental hygienist, recently found part-time work. Her husband, who managed a plumbing business in Anchorage, has been too busy with the orchard to consider outside employment.
"It's a lot of work, but I knew it was going to be," he says. "The fruit is coming on, the fruit is coming off.
"There's always something."
The Erovicks say they are amazed at the kindness of the Green Bluff community, especially because the orchards compete for business during harvest season.
"There's no animosity. Everybody just does their own thing," Jackie Erovick says, adding that neighbors help each other.
"It's the type of place where, if you have a flat tire, somebody is going to help you."
The couple looks forward to engaging in their favorite recreational pastimes such as camping, fishing, rafting and skiing. So far, they've been too busy working the trees for outside fun.
"It's really rewarding, especially if you love being outside, working with the trees," Jackie Erovick says. "But there's no way to make a living off of it. The fruit's just not worth enough.
"It's a glorified hobby."
Local journalism is essential.
Give directly to The Spokesman-Review's Northwest Passages community forums series -- which helps to offset the costs of several reporter and editor positions at the newspaper -- by using the easy options below. Gifts processed in this system are not tax deductible, but are predominately used to help meet the local financial requirements needed to receive national matching-grant funds.
Subscribe to the Coronavirus newsletter
Get the day's latest Coronavirus news delivered to your inbox by subscribing to our newsletter.
---