News > Home
Balloon lady holds lofty value
Tue., Nov. 27, 2007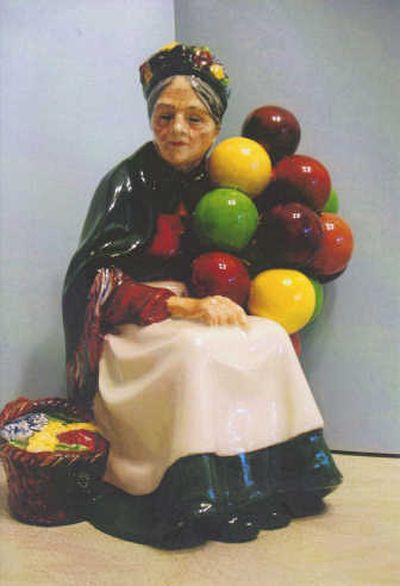 Dear Collector,
My balloon lady was inherited from an elderly cousin who had it for many years. About when do you think the figurine was made and (for insurance purposes) what do you think it's worth?
Her real name is "The Old Balloon Seller," and she was made in December 1940, as can be determined by a date mark. Royal Doulton began producing this Harry Nixon designed figurine in 1929 and discontinued it in the 1990s. Since it is a classic, value is at least several hundred dollars.
Dear Collector,
I would appreciate your comments concerning the value of the coins listed below.
It would take me nearly two columns to address each of the coins in your letter; an improbable task. I did however choose the oldest of the lot: an 1840 penny. Describing Lady Liberty's hairstyle, this copper coin is called a "Braided Hair" cent. Nearly two and a half million units were minted that year. Low value on a well-circulated piece is about $20.
Dear Collector,
This book, "Lassie and the Secret of Summer," first belonged to my older brothers, then me. Even though it is slightly worn, there are no big tears or missing pages. It's mor than 50 years old; does that mean it may be valuable?
Based on the CBS television series (the source of which was the 1940 novel "Lassie Come Home," which became a movie in 1943), your Whitman book was published in 1958. Value of your 282-page novel is $10.
Dear Collector,
Please identify the year this nonworking Ansonia clock was made?
Listed in the 1897 Sears, Roebuck Catalog as a "very fancy cabinet clock in black walnut," it originally sold for $6.15; a large purchase when the average yearly income was $630. Get it going again and it could be worth more than $1,000.
Dear Collector,
I think the deer on this small vase is Bambi. If that's so, what would it be worth?
Disney, the master of merchandising, licensed Leeds China of Chicago, a distributor, to produce this Bambi planter in the 1940s. Listed value is more than $65.
Dear Collector,
I have a souvenir roll-up measuring tape from the St. Louis World's Fair of 1904. The Palace of Industry is pictured on one side. What is it worth?
Introducing Dr. Pepper, cotton candy and peanut butter, this exhibition commemorating the Louisiana Purchase showcased a number of "palaces" including Machinery, Fine Arts, Transportation and Industry. The Palace of Machinery provided much of the power to the fair via electric generators and steam engines. Your sewing tape could be worth $10 to $20, depending on condition.
Dear Collector,
As a child I was given this small sewing machine. I have the machine, the clamp to hold it on to a table and the instruction booklet. No other accessory is mentioned. Would you please tell me the value?
One of the most important, if not the most important item is missing, and that's the box for your Sewhandy #20-10. Starting in 1910, Singer sold thousands upon thousands of these crank operated toy sewers. If your keepsake were complete, it would be worth $100.
Local journalism is essential.
Give directly to The Spokesman-Review's Northwest Passages community forums series -- which helps to offset the costs of several reporter and editor positions at the newspaper -- by using the easy options below. Gifts processed in this system are not tax deductible, but are predominately used to help meet the local financial requirements needed to receive national matching-grant funds.
Subscribe now to get breaking news alerts in your email inbox
Get breaking news delivered to your inbox as it happens.
---