News > Spokane
Slowdown hits home
Sun., Oct. 7, 2007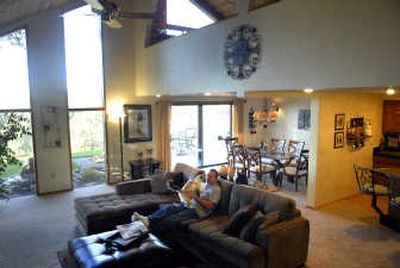 From the living room, the lights of the city sparkle below, and Mount Spokane looms in the distance. New granite lines the kitchen countertops, and a gas fireplace warms the master bedroom.
But when Bruce and Debbie Curran decided to sell their three-bedroom home this fall, they did something that would have been unheard of 12 months ago: They listed it below its appraised value.
"We could have asked the full amount," said Bruce Curran, a facilities foreman for Spokane Transit Authority. "But in the spring, you've got more buyers. We're not in a rush to sell, but we're a little more eager."
The Currans stumbled on the new reality of the Inland Northwest's housing market: While home prices show year-over-year increases, thousands of properties are waiting to be sold, and some sellers find it necessary to offer discounts to picky and wary buyers.
In Mead, a ranch home on an expansive lot was advertised for $45,000 below appraisal. At Twin Lakes Village in Rathdrum, a condominium is listed $30,000 lower than appraised value. In Boise, a Web site offered a $1 million home at $250,000 below its appraisal.
No one tracks how many homes sell below their appraised value, in large part because – unlike assessments that are done each spring for tax purposes – many homes do not have an appraisal before they are listed. But as homeowners gained equity during the recent boom, many had appraisals done in order to secure home equity loans.
Still, rather than paying for an appraisal, most homeowners rely on the recent sales of comparable homes in the area, and the suggestions of real estate agents, who say some clients have struggled to adapt to the changing markets in Spokane and Coeur d'Alene.
"It can be a touchy subject if I bring it up," said Tom Walker, a real estate agent with Tomlinson Black Valley. "I tell them what I think it will sell for. We hear, 'Well, we can't do that because we paid more than that, and we owe more than that.' "
For sellers, the market can be confusing. Spokane's median sales price topped $185,000 in August, an 8.1 percent increase compared with last year. But the number of active residential listings grew 26 percent during the same period and more than 3,000 homes are now for sale.
In Kootenai County, the trend has been more pronounced. In the first six months of 2007, the number of home sales dropped 15 percent, and housing prices fell more than 7 percent in Coeur d'Alene. The number of residential listings also increased 29 percent, resulting in more than 7,600 homes for sale in Kootenai County, according to the Coeur d'Alene Multiple Listing Service.
In a declining market, buyers can be more selective, said Glenn Crellin, director of the Washington Center for Real Estate Research at Washington State University.
They have two choices, he said: "Do they spend everything they had come prepared to spend and get more house, or do they buy the kind of house they thought they would have to settle for? Typically, they decide that they are going to buy upmarket. As a result, the total amount they spend increases, but the property they get may be a bit of a bargain."
Such trends can push up the median home price, even in a market in flux.
Many eager sellers cite those numbers when they list their properties higher than the market will bear, real-estate agents say. While many sellers – particularly those who need to move because of a divorce, job or high mortgage payment – are flexible, others struggle to reconcile the market value of their homes with their perceived value of the property.
"We are seeing a lot of houses that are priced way above the market," said Jeff Brown, a team leader with Keller Williams Realty in Spokane Valley. "The problem is, when a home gets stale on the market that really can hurt. Above 30 or 40 days on the market, people feel there is something wrong."
In North Idaho – where homes once were quickly snapped up – the typical house takes 118 days to sell, a slight increase since 2006. "There is just way too much inventory, and we don't have enough buyers out there," said Don Carton, a Realtor in Coeur d'Alene. "Buyers want the best house for the least amount of money."
On a Coeur d'Alene real estate blog, sellers have lamented the rapid change in the market.
"All we need is a good agent that can sell homes, wants the commission and has clients," wrote a seller who had listed a $440,000 home below its appraised value. "Are you out there???"
Earlier this year, the Currans, like many sellers, were optimistic. Three years ago, they had purchased the home at 4233 E. 8th for $165,000 – just as Spokane's market was starting to boom. They made several updates, including a new kitchen, a rock fountain and freshly painted walls.
When they listed their home for two months this spring, they used the 2006 appraisal – which was done to secure a home equity loan – and added the approximate increase in the region's median home prices.
But when the home didn't sell, they took it off the market for several months, and decided to stay in the 2,100-square-foot house. Recently they tried again, listing the home slightly below its appraised value of $240,000.
"It gives people a little equity right off the bat," Bruce Curran said. "Some people want their cake and to eat it too. We think we can offer buyers a better value."
Local journalism is essential.
Give directly to The Spokesman-Review's Northwest Passages community forums series -- which helps to offset the costs of several reporter and editor positions at the newspaper -- by using the easy options below. Gifts processed in this system are not tax deductible, but are predominately used to help meet the local financial requirements needed to receive national matching-grant funds.
Subscribe now to get breaking news alerts in your email inbox
Get breaking news delivered to your inbox as it happens.
---