News > Idaho
Big turnout for CHS fall testing day
Sat., Oct. 20, 2007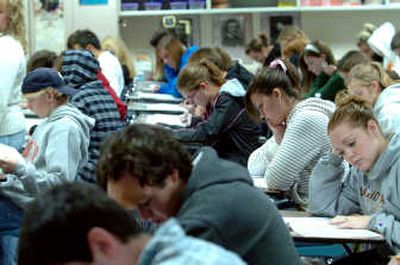 Educators often tout the value of college preparation exams. At Coeur d'Alene High School, they made them mandatory.
On Wednesday, every CHS junior took – or at least, they were supposed to have taken – either the PSAT, Compass or Armed Services Vocational Aptitude Battery. Administrators called it fall testing day and say it'll be a permanent part of the Coeur d'Alene High School experience.
"We decided offering it during the school day would encourage more kids to take it," said counselor Rick Jones. "Then it turns into a 'you will take one of the three.' "
About 360 Coeur d'Alene High students – some freshmen and sophomores – took one of the tests Wednesday. The PSAT, which qualifies National Merit Scholarship recipients, costs $15; the other two are free.
The cost doesn't appear to have been a deterrent. Compared to the 50 students who signed up for Compass – North Idaho College's entrance test – 220 signed up for the PSAT and 160 took the ASVAB.
Last year, 123 CHS students took the PSAT.
New Web feature for job seekers
A new feature on the Idaho Career Information System allows students and job seekers to see what kinds of education and jobs they'll need to lead the kind of lives to which they aspire.
Reality Check lets users match consumer choices, salaries and occupations to the type – and amount – of education needed to get them, according to a news release from the Idaho Department of Labor. Plug in a salary and see what jobs pay that much, or check estimated costs of living in Coeur d'Alene, Boise, Idaho Falls, Pocatello or Lewiston.
The career information system is available at all state Department of Labor offices, most high schools and middle schools and on personal computers for those who have set up an account. Check it out at www.idahocis.org.
Last night for LCHS play
Tonight's the last night to catch Lake City High students perform the "Imaginary Invalid." The play, written by French playwright Moliere, is a satirical tale "of a hypochondriac who is willing to marry off his daughter to a physician to ensure himself a lifetime of medical treatments," according to a news release from LCHS's Troupe de Wolfe Productions.
Trail Creek fundraiser update
The Trail Creek outdoor program is over this year at Lakes Middle School, but the fundraising efforts to support the program for the coming years continues.
Last year's sixth-graders at Canfield, Woodland and Lakes middle schools were the first in nearly 30 years who didn't spend a few fall days in the woods doing outdoor education activities and team-building exercises.
The Lakes Middle School parent-teacher association raised enough money to bring the program back in partial form at a closer location, Camp Lutherhaven on Lake Coeur d'Alene.
A car wash fundraiser netted $449, which Panhandle State Bank matched, bringing the total to $898.
"We were impressed by the community support and welcome additional donations," Lakes PTA President Mary Larson said in an e-mail. Donations can be made at Panhandle State Bank. Just ask for the Lakes Trail Creek account.
Local journalism is essential.
Give directly to The Spokesman-Review's Northwest Passages community forums series -- which helps to offset the costs of several reporter and editor positions at the newspaper -- by using the easy options below. Gifts processed in this system are not tax deductible, but are predominately used to help meet the local financial requirements needed to receive national matching-grant funds.
Subscribe to the Coronavirus newsletter
Get the day's latest Coronavirus news delivered to your inbox by subscribing to our newsletter.
---