Here's the dirt: Retirement complex features exercise, massages and more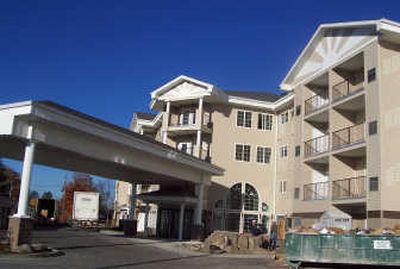 A Spokane Valley retirement complex devoted to healthy living is opening in mid-November.
Evergreen Fountains Senior Living Community, on Evergreen Road off Interstate 90, has six cottages, 75 independent apartments and 25 additional units catering to residents needing assisted living services.
Units range from 650 to 1,250 square feet and cost $2,200 to $3,500 a month for independent living apartments, said Greg Arger, who owns the complex with his brother, Prokey Arger.
The four-story complex will have fountains throughout and a wellness center. Portions of the center will offer physical therapy, exercise classes such as tai chi, and massages.
A fitness room will feature equipment geared toward seniors, Arger explained, and the aquatic facility has a three-lane lap pool and spa.
Other amenities include dining rooms for independent and assisted living residents and a lobby bistro and computer room. The property also has garages that can be rented.
The Arger brothers, who also built Orchard Crest Retirement Community in Spokane Valley, own G. Arger Co. Real Estate Inc. and Arger Capital and have been in real estate development for 25 years.
Drinks at piano bar
A 30-seat piano bar that will serve martinis with a song is opening on the Monroe Street side of the Montvale Hotel building.
Collettes Piano & Tini Bar is expected to open in late December. Owner Pat Breithaupt said she's wanted to open a downtown piano bar since she was a kid, when her father worked at the Davenport Hotel.
"I wanted to be downtown and this was as close as I could get to the Davenport and the Fox," Breithaupt said.
On Friday and Saturday nights the bar will host a professional piano player and on Tuesdays and Wednesdays guests can perform karaoke.
A nearby restaurant that Here's the Dirt reported on a few months ago should open in mid-November, said Doug Griepp, general manager for the Montvale Hotel, which is leasing space for the piano bar and restaurant.
Jason Rex and Connie Naccarato own Scratch, an eatery that will serve steaks, seafood and pasta dishes. It's opening in space that adjoins the hotel lobby, Griepp said, adding, "It's really a neat expansion, if you will, of the hotel."
Bank donates space for nonprofit
Bank of Whitman recently donated 3,700 square feet of downtown office space to the Inland Northwest Community Foundation.
The rent-free space is in the Bank of Whitman building at 618 W. Riverside Ave. The gift also includes improvements and utilities. INCF expects to move early next year.
Inland Northwest Community Foundation manages more than $63 million in funds for charitable organizations throughout Eastern Washington and North Idaho. The savings on rent and utilities will allow the organization to redirect overhead funds to programs that directly benefit the region's charitable community, a news release from INCF said.
---