News > Spokane
Lessons for life
Tue., Oct. 30, 2007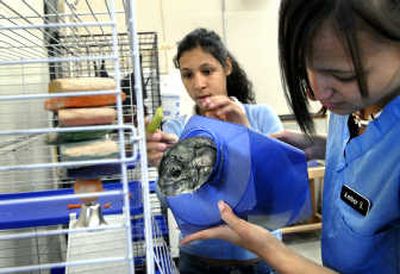 While the class of 2008 will be the first to face a new Washington state requirement that students develop a post-graduation plan, schools in the Inland Northwest have spent time and resources for years preparing students for the increasingly complex job market.
"We have to educate our students on what it is going to require for them post-high school, and we have to start really early," said Central Valley High School counselor Pam Stickney.
In ninth grade, CV students begin building a portfolio, mapping out their high school course work and working with a computer program developed by the same company that designs the ACT test to help them look at the direction they want their adult lives to take.
"They're all so tech savvy anymore that it becomes a hands-on tool, and they're very comfortable with how it's laid out," said Stickney.
All Washington students will be required to create a "high school and beyond plan" for graduation starting with this school year's graduating class.
In Spokane Public Schools, students create an electronic portfolio in the eighth grade through the Washington Occupational Information System. They then have access to information on occupations, what classes they might need, and requirements for education beyond high school.
Assessments are administered to students twice a year including tests that determine a student's learning style, areas of interest, and personality type.
"This is not only to teach students about careers and education, but who you are and how you fit into the world around you," said Janet Popham, the career specialist at Lewis and Clark High School. "It makes students think about what they want in the perfect job and what skills are important."
The portfolio follows a student through high school and helps him or her develop a senior culminating project focused on career interests – another state-level graduation requirement.
Even in middle school, districts work to hone a student's interests and goals.
"By the time they're in eighth grade, they're definitely interested in looking into what they are going to do in the future," said Greenacres Middle School counselor Jesse Dhillon.
Dhillon and other counselors visit students in classrooms, guide them though career inventories and prepare students for high school with an eye to the years after graduation.
"It has changed; it's become much more sophisticated. There are very few low-skilled jobs available to kids these days," said Donald Howell, director of the Spokane Skills Center.
Spokane-area students with an interest in learning a particular vocation have been spending time at the Skills Center for 25 years. But with classrooms full of kids soaking up hands-on experience in forensics, medical lab work, veterinary procedures, information technology, video production and other programs, the opportunities available to students have evolved with the job market.
"The demographics are basically what you would find in a high school," from honor students to those in special education, said Howell.
He oversees about 600 students – down some from last year, which Howell attributes to increased demands on students' schedules as they work to meet increasingly intensive graduation requirements.
"We really do provide opportunities for kids to get a head start," he said.
On Thursdays, employees from Hollister-Stier and other nearby businesses stop by the school's small restaurant for a gourmet lunch prepared by culinary arts students.
"My training is actually very complex," student Shane Stevenson said Thursday after helping prepare a buffet of London broil, scallops St. Jacques over pasta and chicken breast scaloppini.
In addition to cooking, the two-year program covers food safety, inventory and cost control and other skills that help students break into a post-secondary culinary program or a job in the hospitality industry. Like all of the center's programs, an advisory committee helps keep the curriculum current with industry demands.
"It's amazing to me the shift in confidence they get once they have opportunities like this," said Scott Dethlefs, who teaches broadcast media production.
After working on projects and learning the basic skills of editing and videography in his class, five students have gone on to work behind the scenes at local TV stations, Dethlefs said.
More and more area high school students are even starting their higher education during their senior year.
At CV, 120 students spend some or all of their day at colleges through the Running Start program, says Stickney, the CV counselor.
Demand for Advanced Placement courses is also high, with about 270 exams administered at the school last year, she said.
At smaller West Valley High School, about 25 students participate in Running Start, said counselor Tami Henry.
Throughout high school, each student works with a mentor teacher to prepare for college or other post-secondary training.
The school works in two visits to area colleges for juniors and seniors, in addition to job shadowing, career fairs and other programs. The school tries to help college-bound students and their parents figure out applications and financial aid options.
"It's a pretty detailed process," Henry said.
Whether or not a student is university bound, there's a greater expectation than in years past that young adults will prepare themselves for a career.
"The likelihood is you're going to have to do more school than your four years of high school," she said.
Local journalism is essential.
Give directly to The Spokesman-Review's Northwest Passages community forums series -- which helps to offset the costs of several reporter and editor positions at the newspaper -- by using the easy options below. Gifts processed in this system are not tax deductible, but are predominately used to help meet the local financial requirements needed to receive national matching-grant funds.
Subscribe now to get breaking news alerts in your email inbox
Get breaking news delivered to your inbox as it happens.
---